The Char Broil vs Weber smackdown is one of the most heated rivalries in the grilling world.
So, being the BBQ enthusiast that I am, I thought I would perform a comparison of the two in an effort to determine which is superior.
To keep things as fair as possible, I included several different models from each company, placing the closest competitors in side-by-side matchups.
In a rush? Here are the winners:
#1 Char-Broil Performance 300 vs. Weber Spirit II E-210
#2 Char-Broil Classic 360 vs. Weber Spirit II E-310
#3 Char-Broil Performance 475 vs. Weber Genesis II S-435
#4 Char-Broil Grill2Go vs. Weber Q2200
Things to Consider Before Buying a Gas Grill
Before you get down to the nitty-gritty details about which company makes a superior grill, you should think about whether either one of these products is likely to suit your cooking needs.
Gas grills can make an excellent addition to a household, especially if you have a busy lifestyle or prefer to make dinner decisions on the fly. With a gas grill, there's no need to plan ahead (unless your meat requires a lengthy marinade, but that's a question for another time). You can fire up the grill at the touch of a button, and toss on your menu items just minutes later. The "waiting game" that's part and parcel when cooking with a charcoal grill is completely eliminated.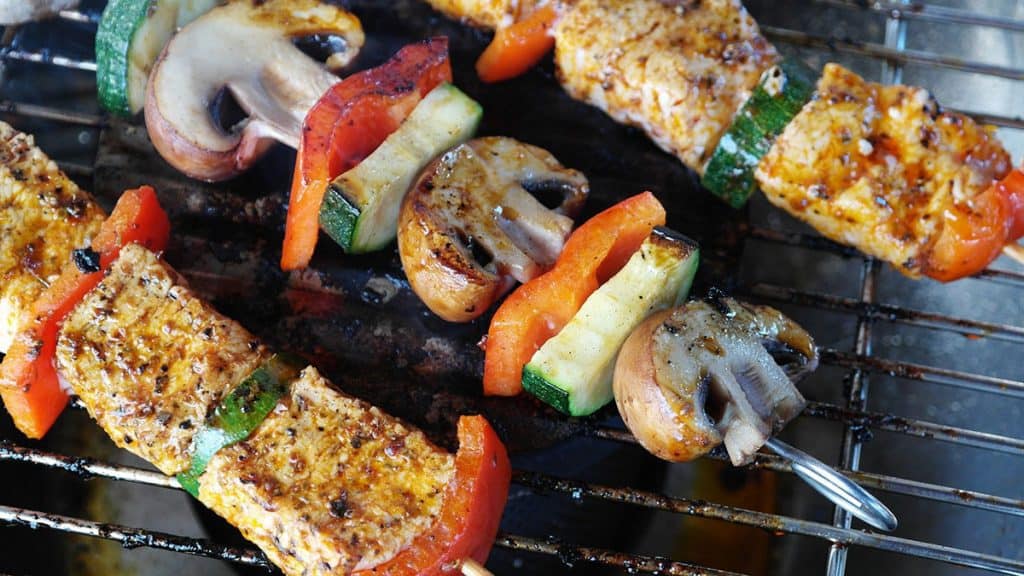 That said, we know there are people who just can't live without the smoky, char-grilled flavor that charcoal provides. I hear you–that taste sensation is one of the main reasons I became obsessed with grilling to begin with. Though some experts claim that there's actually very little difference, I'm not 100 percent convinced. Fortunately, some of the models listed here (namely, the Weber Spirit units) come equipped with "Flavorizer Bars" to help imbue your ingredients with that flame-broiled quality. This might not be enough to sway die-hard charcoal lovers, but those shoppers are probably better off looking elsewhere anyway.
Here's a list of some of the basic considerations you should keep in mind as you begin your search for a gas grill:

Size of the grill—does it have the right amount of space for what you have in mind?
Power and heat retention—how many BTUs (British thermal units) is it capable of cranking out? Do the burners retain their heat well during cooking?
Affordability—does the price tag line up with your budget?
Longevity—is the unit built to last? Does the company offer a warranty?
Storage—do you need a unit that offers side burners and tables for prep space? What about hooks on which to hang your barbecue tools?
Char-Broil Grills: A Brief Review
Char-Broil is one of the top names in the grilling game, and these units give a solid representation of what they have to offer.
This is Char-Broil's entry into the two-burner grill race. The unit features 300 total square inches of cooking space, with an additional 100-inch porcelain-coated swing-away warming rack. It's capable of churning out 12,000 BTUs per burner for a total of 24,000 BTUs—an impressive amount of heat for a grill of this size. Other features include a lid-mounted temperature gauge, electric push-button ignition, and two foldable metal side shelves.
This model is marketed toward singles or couples who like to grill often but don't need a ton of cooking space. If you routinely cook for larger groups, you should consider one of the other units on our list.
Pros:
Attractive design
Affordable price point
Low maintenance (easy to assemble and clean)
Provides fast, even heat
Cons:
Small surface area, even by two-burner grill standards
Some shipping damage has been reported
Grates will require soaking if used to cook wet or sticky food (like saucy meat)
Difficult to heat over 450 degrees
This sturdy three-burner unit offers up 360 square inches of cooking space and comes with a warming rack that measures 170 inches. The lid and firebox are porcelain-coated, which is designed to help the grill stand up to all types of weather. Two twelve-inch side shelves offer additional room for prep and storage. This is a good all-purpose unit at a bargain price, which could make it a great fit for smaller families on a tight budget.
Pros:
Very affordable
Durable
Easy to set up
Cons:
Not a great deal of cooking space for a three-burner unit
Temperature control can be somewhat finicky
No storage hooks included
Char-Broil ups its game with this four-burner unit, complete with lidded side burner and 175-inch swing-away warming rack. The main cooking area offers 475 square inches of grilling space, and the metal side shelves provide the chef with even more room to maneuver. If you love to grill but are daunted by the amount of maintenance a larger unit would require, this one could be the answer: It comes with a removable grease pan to take some of the sting out of cleanup duties.
Pros:
Reasonable price for a four-burner unit
Easy to assemble and clean
Offers a side burner for versatility
Maintains its heat well over long periods of time
Cons:
Users have reported some shipping damage
Heat distribution is somewhat uneven (cooks hotter toward the front of the grill)
Secondary parts (like the handle) are not high quality
If you're looking for a travel grill, Char-Broil is hoping to earn your business with this portable single-burner unit, featuring infrared technology for fast, even cooking. The firebox and lid are cast aluminum, and a temperature gauge is built-in to help take the guesswork out of cooking on the road. The grate features just 200 square inches of cooking space, so it's a better fit for singles or couples than for larger families.
Pros:
Affordable price point
Heats quickly; good searing ability
TRU-Infrared technology
Cons:
Gets very hot to the touch during use
Regulator is not high quality and requires frequent replacement
Food is prone to burning if you don't watch closely
Weber Grills: A Brief Review
Let's see how Weber's offerings stack up against the competition.
The Spirit II E-210 offers up more cooking space than its Char-Broil counterpart, with a total of 450 square inches. This is a cart-style unit, so there's additional storage space underneath the grill, with six hooks for hanging your barbecue tools. The price point is slightly higher than the competition, but it's worth noting that Weber also offers a 10-year guarantee. Unlike the earlier Spirit grills, this updated version comes in a variety of colors, making it worth a look if you place equal value on both appearance and performance.
Pros:
Attractive design with multiple colors to choose from
10-year warranty
"Flavorizer" bars and grease management system included
Durable
Heats quickly and efficiently, with maximum power
Cons:
Assembly is moderately difficult and can take a long time
Rear vent puts out a lot of heat—must take care when deciding where to set up to avoid damage to property
Slightly high price point for a two-burner unit
You can also read our Weber Spirit E-210 review here.
This unit is virtually identical to the E-210, with one obvious exception: It offers three burners instead of two, with a total of 529 inches of cooking space. Buyers who like the features included with the Spirit II and need a little bit of extra room for their outdoor cooking needs should find plenty to love about this powerful grill.
Pros:
Reliable ignition and heat control
Easy to assemble
"Glamorizer" bars and grease management system
10-year warranty
Cons:
High price point
Ignition switch is prone to breakage
Difficult to maneuver once assembled
The Genesis II is arguably Weber's highest-profile offering, with its "GS4" grilling system that cranks a grand total of 48,000 BTUs over four burners. The grill racks are made of durable 7-millimeter stainless steel for optimal heat retention and easy cleanup. When you include the swing-away warming rack, the unit offers 844 square inches of cooking space, with an additional side burner for sauces or veggies. Die-hard grillers and large families should appreciate this unit, but be forewarned that it isn't easy on the wallet.
Pros:
Maximum cooking space with side burner
Excellent craftsmanship; durable quality
Attractive design
10-year warranty
Even heating
Cons:
High price point
Assembly can be difficult
Large openings in back and sides that wild animals can get into if the grill is not properly sealed and/or cleaned after use
Weber has several grills that could be compared directly to the Char-Broil Grill2Go, but the Weber Q2200 stands above the rest. Not only does it offer more total cooking space—280 inches, as opposed to 200—its single burner cranks out 12,000 BTUs for fast, even cooking. The grill grate is porcelain-coated cast iron, and the sturdy lid boasts a built-in thermometer. There are also two foldable side shelves that offer additional work or storage space. This is definitely worth a look if you're a camping enthusiast who needs an ample supply of grilling space.
Pros:
Heats quickly and evenly
Very light and maneuverable, even considering that this is a portable unit
Decent amount of cooking space for a travel grill
Grease catcher helps with cleanup
Cons:
Pricier than the Char-Broil Grill2Go unit
Some minimal assembly required
Ignition system can be quirky; may require frequent replacements
Features & Benefits of Char-Broil Grills
Size
As a general rule, Char Broil's offerings are on the smaller side. Their two-burner unit offers just 300 square inches of cooking space, and the travel unit's grill is even more cramped at 200 inches. Depending on the size of your party and the ingredients you prefer to grill, however, this might not be a deal-breaker. Also, you should consider how much space you have to devote to the unit in the first place, and whether you'll be able to comfortably maneuver the grill if and when it needs to be moved.
Ignition System
The electric ignition systems on the Char-Broil grills to be both durable and reliable, usually starting up on the first try. This is especially important if you use the grill on a regular basis. On some of the less expensive models, the switches themselves might be prone to breakage (the quality isn't the greatest).
Burners and Heat Retention
For the most part, the burners on a Char-Broil model will offer 12,000 BTUs apiece, an impressive number. I've found that the grills heat quickly and evenly, and are able to hold their heat over a long period of time—a major plus if you're planning on grilling multiple courses. If anything, they can get a little too hot—grillers should keep a close eye on their ingredients during cooking, and keep small children and pets away from the cooking surface.
Affordability
Char-Broil has a number of very affordable models, with their Grill2Go travel unit representing an especially good bargain. In general, they're far less expensive than their Weber counterparts. The trade-off? You're not getting the same number of bells and whistles that are typically included in Weber models.
Ease of Setup
This category is a toss-up in the Char-Broil vs Weber race. While setup and installation aren't particularly complicated, the process can be somewhat time-consuming. If you choose to invest in a unit, I would recommend having a friend or two on hand to help with this step to alleviate the hassle.
Longevity
Here's where the lower costs make themselves apparent: A number of the secondary parts (such as the lid and ignition switch) are prone to rusting and breakage. This might not be a major issue if you don't use the grill that frequently, but if you're a serious griller and have the money to invest in a pricier model, you might want to take a closer look at the Weber grills.
Additional Features
Apart from the TRU-Infrared technology featured by the Grill2Go, the Char-Broil units don't offer much in the way of frills. The best that can be said is that most of them offer side shelving for additional storage and prep space—useful, but hardly a conversation starter.
Features & Benefits of Weber Grills
Size
The Weber grills are typically much larger than their Char-Broil counterparts. The two-burner unit offers 450 inches to Char Broil's 300, making these grills a better fit for larger groups or people who like to have more than one grilled component in their cooked-out meals.
Ignition System
Weber features an impressively reliable ignition system, but the regulators on some units tend to be less reliable. The resultant repairs can be a time-consuming hassle, even with the warranty. That may be one of the reasons why Char-Broil remains such a strong competitor, despite the lack of fancy add-ons.
Burners and Heat Retention
The burners on a Weber grill are just as powerful, if not more so, than most of the competition. The total output on the Spirit II E-210, for example, is 26,500 BTUs—a 2,500 improvement over the Char-Broil Performance 300. The burners hold their heat long enough to accommodate gatherings that last for several hours. As far as distribution goes, the food seems to cook quickly and evenly—no issues noticed here.
Affordability
If cost is a principal issue, you'll probably want to stick with the Char-Broil offerings. Weber grills have a lot of things going for them, but affordability isn't one of them. On the plus side, they do offer a lot of quality for the price.
Ease of Setup
These grills can be tricky to set up, and you might not be expecting the Weber travel grill to require as much assembly as it does. There are a number of parts included that might not be immediately recognizable, such as the "Flavorizer" and "Glamorizer" bars. If you follow the instructions carefully and you've set up grills before, then you probably won't have an issue, but first-timers should be forewarned.
Longevity
Weber makes its products to last, and that durability is reflected in the cost, as we've mentioned. This gives them a definite edge over the competition, especially when you consider that the company offers a ten-year warranty with every purchase.
Additional Features
In addition to its "GS4" grilling system with "infinity" ignition and grease management system for easy cleanup, the Weber grills listed here also offer "Flavorizer" or "Glamorizer" bars. As mentioned above, these are meant to impart a smokier flavor to the ingredients, and as such, might be worth the extra cost all by themselves. It's also worth mentioning that most Weber units offer more storage space (including hooks for your tools) than their Char-Broil counterparts.
Char Broil vs Weber: The Verdict
Taking everything into consideration, I'd say that Weber is the ultimate winner of this roundup. They might cost a bit more, but they offer more space and durability, as well as the extra features that make grilling such a pleasure. They're bound to last for many years and provide even heat over long periods of time—a feature that benefits every griller, no matter how often they take advantage of the unit.
Click the links below to read more about Weber grills:
We hope you've found our matchup both informative and entertaining. Good luck in your search, and happy grilling!
Weber compared to other brands:
Other related articles: