Weber has many different products on offer. Some have similar names, so it can be difficult to tell them apart. The trick is to understand the ins and outs of each product line. Once you've taken a closer look, you'll be able to make informed decisions about each one.
For this Weber Spirit E 310 vs Genesis E 310 roundup, we'll cover those bases for you. Our goal is to provide you with a detailed look at both models so you'll know which one is the right fit.
Weber Spirit E-310
The kettle grill was invented in 1952 by Weber's founder, George Stephen. Since then, the brand has expanded to include many other grill types, including gas-powered versions like the Spirit E-310.
This is a 3-burner cart-style model, flanked by shelves on either side. It offers 529 square inches of cooking space, including a 105-square inch warming rack. Two oversized wheels allow for easy movement, while sturdy legs on the opposite side help keep it anchored once it's in place.
The Spirit E-310 is a medium-sized grill, suitable for couples or small families. It has a reasonably small footprint, so it can fit on patios or balconies. However, for a grill of this size, it offers a decent amount of storage space.
Specifications
Dimensions-57 H X 52 W X 26 D (lid open)
BTU Output-30,000
Primary Cooking Surface-424 sq in
Warming Rack-105 sq in
Total Cooking Surface-529 sq in
Warranty-10 years
Pros
Heats quickly and evenly
Reversible grill plates
Fast assembly
Quality construction
Cons
Some shipping issues reported
Lid sits a bit too low for some larger cuts of meat
Weber Genesis E-310
With the Genesis line, Weber strives to maintain their reputation for premium products that are built to withstand years of regular use.
The Genesis E-310 is another cart-style model with 3 burners. It's also equipped with the GS4 grilling system. This term refers to a combination of 4 features: quality igniters, high-performance burners, a sophisticated grease management system, and Weber's Flavorizer bars.
If you've ever shopped for a Weber grill before, you may have noticed that the Genesis models tend to be pricier than the Spirit line. That's because they come equipped with certain perks that can't be found in any other grill. We'll go into this in more detail in the Standout Features section below.
Specifications
Dimensions-61 H x 54 W x 31 D (lid open)
BTU Output-39,000
Primary Cooking Surface-513 sq in
Warming Rack-156 sq in
Total Cooking Surface-669 sq in
Warranty-10 years
Pros
Even heat distribution
Flavorizer bars reduce flare-ups and create exquisite flavor
Durable construction
Works well in cold temperature
Cons
Manual has some misleading instructions
No leveling casters for the base
Weber Spirit E 310 vs Genesis E 310: Features
Next, we'll go over the shared features of the Spirit and the Genesis to determine which model comes out on top in each category.
Affordability
The Spirit line is designed to appeal to shoppers on a budget. These grills tend to be pretty basic, taking a no-frills approach. That can be a good thing, as it makes the units more user-friendly as a result.
Meanwhile, the Genesis series has more bells and whistles, so to speak. Consumers can expect to pay extra as a result. The good news is that both versions are reliable and sturdy, so the choice comes down to personal preference.
Winner: Spirit E-310
Design
These models are both outfitted with a cart-style design. A lower shelf can be found beneath each firebox, creating handy storage space for barbecue tools or other utensils. There are also 6 tool hooks on each unit.
While both designs are attractive, the control knob plate on the Genesis is made of stainless steel, while the one on the Spirit has a duller finish. This gives the Genesis a sleeker, more sophisticated appearance.
What's more, the Genesis offers side mounting for the propane tank, which refines the silhouette even further. For this reason, the Genesis earns higher marks here.
Winner: Genesis E-310
Burners
In this category, Weber earns its reputation for quality construction. The burners on both units are made of stainless steel, and should last for many years with the proper care.
However, the burners on the Genesis E-310 are just a shade more powerful than the ones on the Spirit version. Even when you take the extra surface area into account, they provide a more reliable grilling experience overall.
Winner: Genesis E-310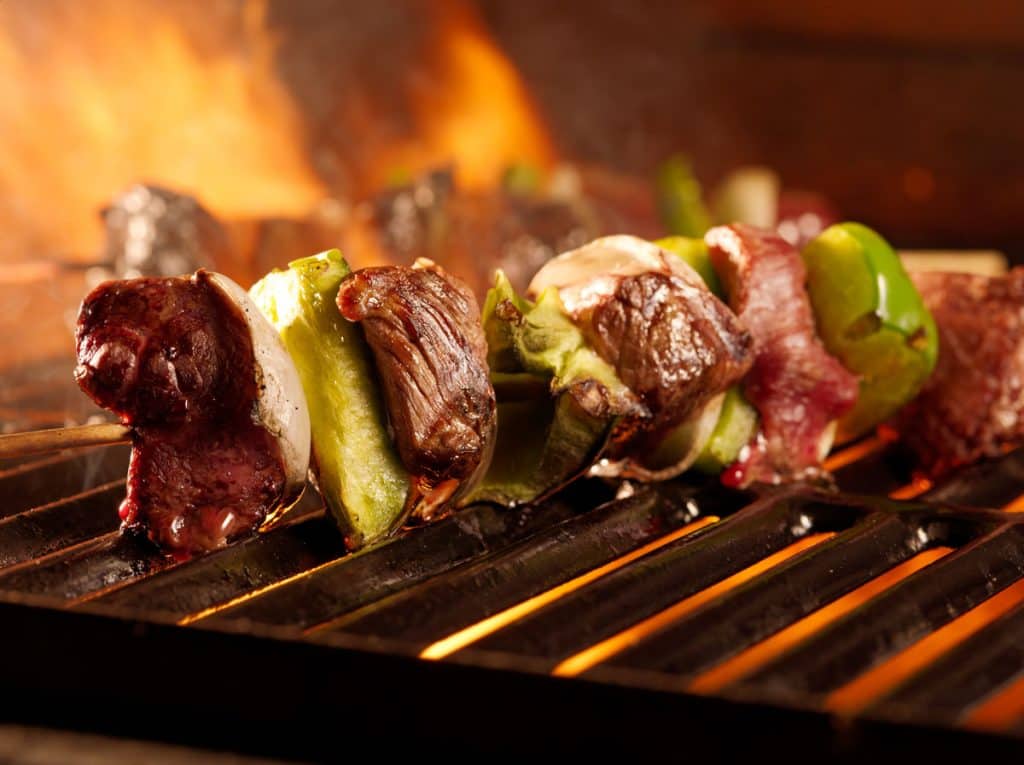 Grilling Grates
The Spirit and the Genesis both feature cast iron grilling grates with a porcelain coating. They require no seasoning, and clean up easily under hot running water. The porcelain enamel makes the grates rust-resistant, which boosts their longevity.
The grates are also reversible, with one thin side and one broad, flat side. The broader side is ideal for turning out visible grill marks on steaks and chops, while the flat side does an admirable job with delicate ingredients like fish fillets.
Because the grill grates on the Spirit E-310 are more compact, they'll take less time to clean. That's why we're giving them top marks in this category.
Winner: Spirit E-310
Cooking Surface
As you can tell from the product specifications, the Genesis version is noticeably larger than the Spirit. The latter features 669 square inches of cooking space, including the warming rack. This makes the unit much more versatile, because it can handle more ingredients at once.
Everyone has different needs in this regard, so it's difficult to say which version is better. A smaller family might be perfectly happy with the Spirit E-310. However, in terms of sheer size, the Genesis is the clear choice.
Winner: Genesis E-310
Grease Management System
This is a difficult race to call. Both models are outfitted with Weber's GS4 label, which includes an effective grease management system. Nevertheless, there are a few subtle differences.
The Spirit E-310's system consists of a shallow metal tray, which sits just beneath the firebox to catch grease drippings. It's easy to remove and replace, which is good news, because it has a fairly low capacity. We would recommend removing it after each use to prevent overflow.
Meanwhile, the Genesis E-310 offers a funnel-shaped catch tray just above the grease pan. The design is more effective at directing the grease away from the flames. This attention to detail is enough to give the Genesis top marks when it comes to grease management.
Winner: Genesis E-310
Standout Features
What does the Spirit E-310 have that the Genesis version doesn't, and vice versa? Let's take a look.
Spirit E-310
Affordability: The Spirit line is set at a lower price point than the corresponding Genesis series
Compact design: The unit has a smaller footprint, which is good news for those with limited patio or deck space
User-friendly: The Spirit E-310 is a basic high-quality grill that's easy to use
Genesis E-310
iGrill Technology: Allows the grill to connect to a tablet or smartphone, letting users know when the grill or the food has reached the desired temperature
Separate drip tray: A funnel-shaped device directs the drippings into a separate grease pan, making cleanup easier
Large storage rack: The Genesis has a more generous footprint, which gives you more space for storing tools and other accessories
Side-mounted gas tank: This benefit gives the unit a polished appearance
4 wheels: A set of small casters makes the grill more maneuverable
In Conclusion
Try the Spirit E-310 if:
You have a limited budget
You aren't interested in special features like Wi-Fi compatibility
You only cook for 2-3 people at a time
The grill will remain in one spot most of the time
If this sounds about right, check out the Weber Spirit E-310 today.
Take a look at the Genesis E-310 if:
You want a model that's large enough to accommodate big groups
You're a tech whiz who likes to collect all the latest gadgets
You're hoping to impress your friends and family with a high-end grill
Check out the Weber Genesis E-310 to turn your grilling dreams into reality.
Hi there! I'm Darren Wayland, your BBQHost. My love of great barbecue inspired me to curate this site as a resource for all my like-minded fellow pitmasters out there. When I'm not researching and learning all I can about the latest tips and techniques, you can find me at the grill—that is, if you can spot me at all through the clouds of sweet-smelling smoke. And since you asked, yes, that probably is barbecue sauce on my face. Welcome to the party!