Most seasoned grilling pros will progress to the point of needing more space for their ingredients. Often, that means graduating to a 4-burner range. Once you've reached the 6-burner level, though, you can consider yourself a true aficionado.
Nexgrill is a California-based company that was founded in 1993. Since then, they've been busy manufacturing grills and accessories for a number of retail outlets, including Lowe's, Home Depot, and Sam's Club. Their products have a reputation for affordability and eye appeal.
Let's take a quick look at what their Deluxe 6-Burner unit has to offer.
Pros:
Affordable price point
Easy to assemble
Eye-catching design
Plenty of grilling space
Cons:
Material is a bit flimsy
Some shipping issues reported
Rotisserie sits a bit too low
Is this model worth the investment? When you've finished reading this Nexgrill 6-Burner Gas Grill review, you should know the answer.
Things To Consider Before Buying a Gas Grill
6-burner gas grills make an impressive addition to the household. They can accommodate many different ingredients at once, even when cooking for a large group. This flexibility is what makes the units so appealing to grilling enthusiasts.
However, there are certain drawbacks. It can be complicated to maintain the correct temperature across several burners, especially when you're working with multiple heat zones. They also require more maintenance due to their larger size. Many people prefer to stick with smaller grills for these reasons.
Also, remember that a gas grill will never impart the same marvelous smoke-kissed flavor that you'll get from charcoal or wood pellets. If you're the kind of griller who prefers to deal with real wood products, you might not be happy with this unit.
Should you decide to keep searching for a 6-burner gas grill, here are some of the basic criteria.
Affordability: Select a grill that fits within your designated budget.
Design: Most gas grills come in one of two basic types: cart-style and cabinet-style. The latter is distinguished by a closed cabinet on the lower level, which hides the LP tank from view. On cart-style models, the lower shelf is exposed and can typically be used for storage.
Construction: Look for a grill that uses heavy-duty stainless steel in its construction. This is particularly important for the burners and lid, which are responsible for distributing and retaining heat.
Maintenance: When the cooking grates feature a porcelain coating, they're easier to clean. Gas grills should also come with an effective grease management system for dealing with drippings and runoff.
Ease of Assembly: Just because a grill is large doesn't mean the assembly needs to be complicated. The process should take a couple of hours at most. Tip: If you can enlist a friend to help, you can start grilling that much sooner.
Warranty: The company should stand behind its product by offering replacements for defective or broken parts. A period of 1-5 years is the industry standard. Note that a quality gas grill can be expected to last 5-15 years with the proper care.
Nexgrill 6-Burner Deluxe Gas Grill Review: Features & Benefits
In this Nexgrill 6-Burner Deluxe Gas Grill review, we'll go over the specific features to help you determine whether it's a good fit.
Burners
This unit's 6 burners all feature a stainless steel construction for longevity and even heat distribution. There's also a searing burner located to the right of the unit, which is operated independently of the others. This burner is constructed of stainless steel as well and can be covered when it's not in use.
Cooking Surface
The Nexgrill 6-Burner Deluxe is a cabinet-style grill with 768 square inches of grilling space. The main cooking surface covers 568 square inches, with the remaining 200 taking up residence on the secondary warming rack. A grill this size should be sufficient for groups of 6 to 8 people.
Even if you don't host large gatherings very often, you might appreciate the versatility of the additional space. With this many burners, it's possible to prepare several meal components so that everything is ready at the same time.
Grilling Grates
The cooking grids are made of sturdy cast iron with a porcelain coating. Because cast iron is an excellent heat conductor, the grates are capable of creating superb grill marks. Meanwhile, the porcelain enameling makes them much easier to clean.
The grates are rust-resistant, so they should last for years if they're cleaned thoroughly after each use. They don't need to be seasoned before the first use, but a good scrubbing is recommended.
BTU Output
Each of the 6 main burners delivers a BTU output of 10,000. The side burner cranks out an additional 15,000 BTUs at full power. That means that the combined BTU output of the Nexgrill Deluxe clocks in at 75,000.
When you look at the total, these numbers are impressive. However, bear in mind that 10,000 BTUs is fairly standard for a gas burner. Some similar models are outfitted with burners that offer over 12,000 BTUs apiece. The powerful searing burner helps to offset this issue, but it's something to be aware of nonetheless.
Rotisserie Kit
The plug-in rotisserie kit is one of the best reasons to consider the Nexgrill Deluxe. This feature consists of two long metal skewers that can be used to hold whole chickens or other large cuts of meat. The skewers will rotate in place to ensure that the meat cooks through evenly.
Both skewers are outfitted with multiple prongs on the end for stability. We would recommend using kitchen string or some other form of reinforcement when using the rotisserie kit.
This is a great feature in theory, but it has one major flaw: The skewers sit a bit too close to the cooking grate. It's fine for smaller cuts, but if your whole chicken weighs more than 4 pounds, you might have a hard time.
Grease Management System
When it comes to grilling, some drippings are to be expected. The Nexgrill Deluxe is outfitted with a grease tray that empties into a second catch cup. Both components can be easily removed for cleaning.
LED Lighting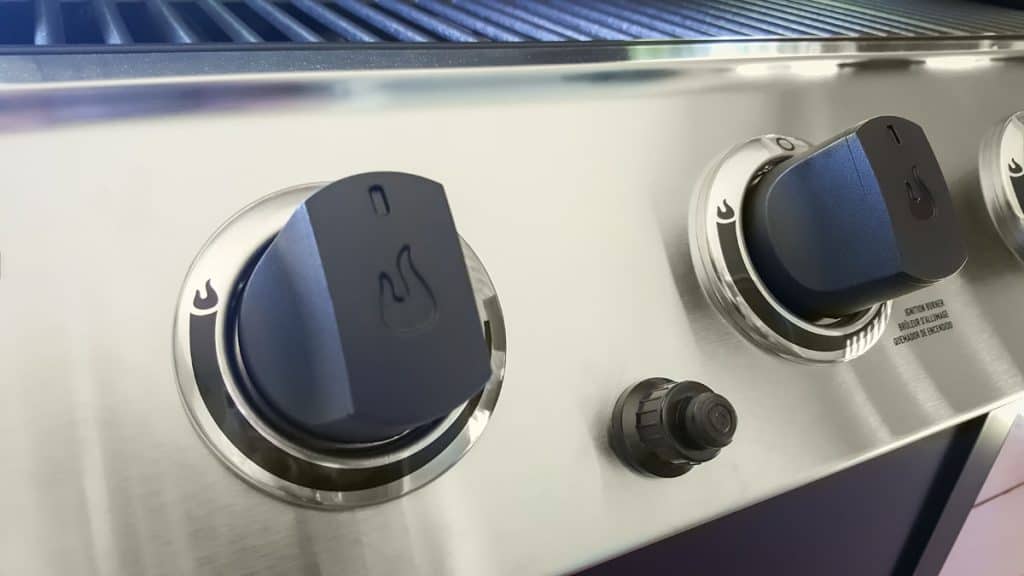 If you enjoy grilling at night, you're bound to enjoy this feature. The knobs on the grill offer blue LED lighting that makes them highly visible in the dark. In addition to being useful, this adds to the unit's eye appeal.
Assembly
This grill is easy to assemble. Here is a step by step how-to video:
Warranty
This unit is covered by a 1-year warranty. While this isn't a particularly generous guarantee, it's fair enough when you consider the low price point.
Nexgrill 6-Burner Deluxe Gas Grill: Social Proof
Here's what other consumers had to say about the Nexgrill 6-Burner Deluxe model.
The majority of the people surveyed were happy with their purchase. Assembly was fast and simple, and the grill performed as advertised. Most consumers seemed to acknowledge that this model was built for instant gratification, not longevity. Still, they also felt that they'd received their money's worth.
Possible Alternatives
Maybe you've taken a look at this Nexgrill 6-Burner Deluxe Gas Grill review and determined that it isn't the unit for you. If that's the case, you might consider one of these close competitors.
#1 Royal Gourmet 6-Burner Cabinet Gas Grill
This cabinet-style 6-burner unit is set at an even lower price point than Nexgrill's offering. It also features a lidded side burner. There's plenty of grilling space available, but the unit lacks the visual appeal of the Nexgrill Deluxe.
How They Compare:
Affordability—Royal Gourmet
Design—Nexgrill
Construction—Nexgrill
Maintenance—Nexgrill
Ease of Assembly—Royal Gourmet
Warranty—Tie
Consider buying the Royal Gourmet 6-Burner Cabinet Gas Grill if you're looking for affordability over eye appeal.
#2 Char-Broil Performance 650 Gas Grill
This attractive offering from Char-Broil features a side burner that's great for heating sauces and side dishes. It may cost a bit more than the Nexgrill Deluxe, but it's also built to last longer.
How They Compare:
Affordability—Nexgrill
Design—Char-Broil
Construction—Char-Broil
Maintenance—Nexgrill
Ease of Assembly—Tie
Warranty—Char-Broil
For a 6-burner unit that can withstand punishment from the weather, take a look at the Char-Broil Performance 650.
#3 Megamaster 6-Burner Gas Grill
This is another bargain-priced model, ideal for buyers who need more grilling space in a hurry. The cart-style design offers plenty of room for prep and storage, but the burners aren't as powerful as Nexgrill's.
How They Compare:
Affordability—Megamaster
Design—Nexgrill
Construction—Nexgrill
Maintenance—Nexgrill
Ease of Assembly—Megamaster
Warranty—Megamaster
Check out the Megamaster grill if you want a no-frills unit for cooking up simple dishes.
Final Thoughts
Would we recommend the Nexgrill 6-Burner Deluxe gas grill?
Yes, if you can find it. Nexgrill units are only sold through certain retailers, so it can be tough to find the unit that you're looking for.
As an alternative, we would suggest the Char-Broil Performance 650. This model offers a similar cooking experience, with a comparable degree of firepower. Though it lacks the rotisserie option, the grill should serve you well through many seasons of use.
To get a better look at the Char-Broil Performance 650, click here.