Are you looking for expert tips on how to grill top round steak? You've come to the right place for that. Once we learned the best way to handle this tasty cut, we found ourselves returning to the same recipe again and again. In this guide, we'll share what we learned along the way.
What is top round steak?
Taken from the hind leg of the cow, the round is a primal cut—that is, one of the initial pieces of meat that's separated from the animal during butchering. As such, the top round is what's known as a sub-primal cut.
Top round steak is fairly tender, but more flavorful than some lean cuts. It's also easy on the wallet, which makes it an appealing choice for the grill. When it's cut into thick slabs, it's often labeled as London broil, but thinner slices are touted as Swiss steak. You might also see it advertised as inside round.
As you might have guessed from the name, top round is the most tender portion of the round. While it's often cut and sold into large roasts, the meat makes an excellent steak when it's marinated and grilled properly.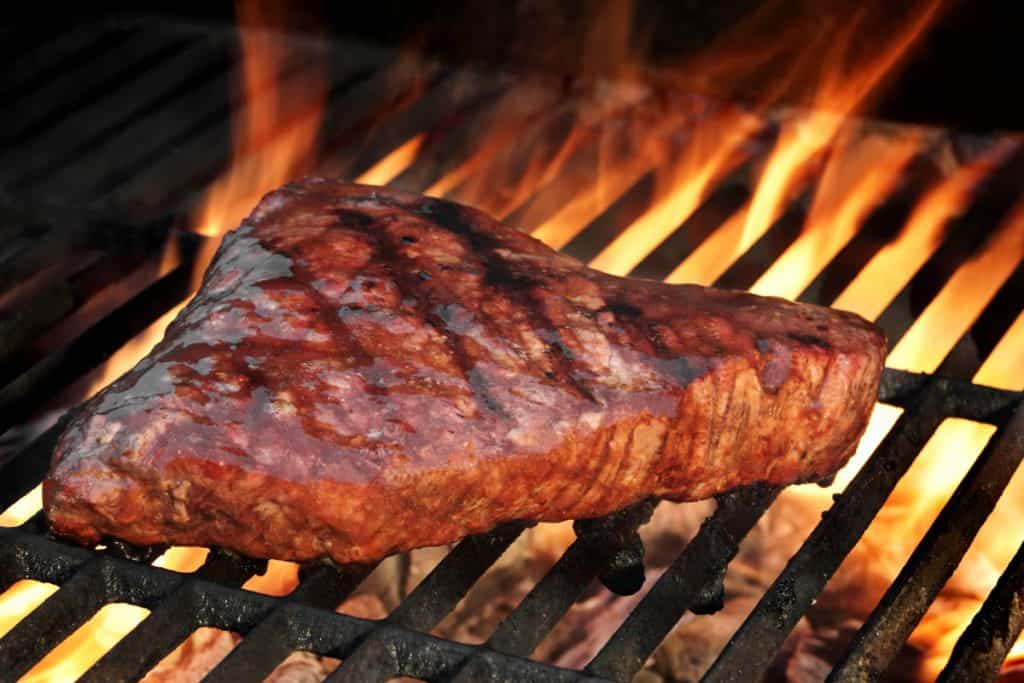 Tips on How To Grill Top Round Steak
Before cooking, trim the fat from the edges of the steaks to prevent flare-ups. This will also allow the meat to cook more evenly and rid the flesh of any unpleasantly chewy bits.
On the other hand, don't attempt to remove any marbling—that is, the thin veins of fat that run through the center of the steaks. These will cook down and add flavor to the meat as it grills.
Craft a delicious marinade that will further tenderize the meat and complement the succulent beef flavor. Savory ingredients will play nicely against the beef's natural sweetness. For best results, marinate the steaks for at least 4 hours and up to 1 day.
Turn the steak in the marinade every few hours to make sure it's fully saturated.
Use a sturdy set of tongs to turn the steaks instead of piercing them with a fork. When the steaks are this lean, you want to preserve as many of their natural juices as you can.
Try not to cook the steak beyond medium-rare. If you prefer medium, keep the temperature below 145 degrees Fahrenheit. Remember that the temperature will rise slightly during the resting period, giving you a final temp of about 145 degrees. If the steak cooks beyond this, the flesh will dry out, giving it an unappetizing mouthfeel.
Slice the steak thinly and against the grain to help promote tenderness. If you're unsure about how to do this, watch this video tutorial beforehand.
If you can't find top round steak, you can substitute flank steak in a pinch. Both are lean cuts that take well to marinades and have superb flavor on their own.
When the meat is thinly sliced, it makes an excellent sandwich filling. Try sauteing the slices with sweet onion, green pepper, and fresh mushrooms. Add the mixture to a toasted sub roll, top with Muenster or American cheese, and run the sandwiches under the broiler.
Here is a video on how to slice steak against the grain:
Grilled Herb-Marinated Top Round Steak
This marinade is rich and flavorful, with a zesty kick from the mustard and herbs. Serve with baked potatoes and your favorite green vegetable.
Ingredients
6 trimmed top round steaks (about 2 pounds)
For the marinade:
1/3 cup neutral oil, such as canola
1/4 cup soy sauce
1/4 cup Worcestershire sauce
2 tablespoons red wine vinegar
1 tablespoon tomato paste
2 teaspoons whole-grain mustard
2 cloves garlic, crushed
1 teaspoon finely minced fresh rosemary
1 teaspoon finely minced fresh thyme
1/2 teaspoon freshly ground black pepper
Directions
1. Make the marinade. In a medium nonreactive bowl, whisk together the soy sauce, Worcestershire, vinegar, tomato paste, mustard, garlic, herbs, and black pepper. Slowly drizzle in the oil until the mixture thickens and is well blended.
2. Place the trimmed steaks in a shallow glass roasting pan. Pour the marinade over the steaks and turn them once so that they're thoroughly coated. Refrigerate for at least 4 hours, preferably overnight.
3. When you're ready to cook the steaks, prepare a medium-hot fire in a charcoal grill, or light the burners in a gas grill to medium-high. If you opt to use a pellet grill, set the temperature to 400 degrees Fahrenheit. If you have a bold-flavored pellet such as oak, make sure to use that instead of a milder wood.
4. Remove the steaks from the marinade and pat them dry. Take care to remove all of the bits of garlic from the exterior, as these can burn and impart a bitter flavor during grilling.
5. Grill the steaks for about 3-4 minutes, rotating once during that time to create perfect cross-hatched grill marks.
6. Using tongs, flip the steaks and continue to cook until their internal temperature reaches 130 degrees on an instant-read thermometer for medium-rare, about 3 minutes longer. If you prefer your red meat cooked to medium, leave it on until the thermometer registers at 140 degrees, 2 to 3 minutes longer. Be careful not to cook it past this point, or the meat will be too dry and tough.
7. Remove the top round steaks from the grill and set them on a plate. Make sure the plate hasn't come in contact with any raw meat. Tent the steaks with foil and set aside for 5-10 minutes.
8. When the steaks have rested, use a sharp knife to carve them into thin slices, taking care to slice against the grain. Serve immediately.
When it comes to grilling lean steaks such as top round, the most important thing to remember is not to overcook them. The meat from the round isn't as naturally tender as a filet mignon, but if it's been cooked and carved properly, it will melt in your mouth. Once you've mastered the technique–and paired the meat with the perfect marinade–we can guarantee you'll be hooked.
Happy grilling!
Related articles:
Hi there! I'm Darren Wayland, your BBQHost. My love of great barbecue inspired me to curate this site as a resource for all my like-minded fellow pitmasters out there. When I'm not researching and learning all I can about the latest tips and techniques, you can find me at the grill—that is, if you can spot me at all through the clouds of sweet-smelling smoke. And since you asked, yes, that probably is barbecue sauce on my face. Welcome to the party!