Wondering how to grill sirloin tip steak that will rival the overpriced options at your local steakhouse? If so, you've come to the right place. Our guide will explain why this cut is special, how it should be prepared, and which seasonings you should use to achieve optimum results. Get that apron ready!
What is Sirloin Tip Steak?
Despite the name, sirloin tip is actually markedly different from top sirloin, its more ubiquitous cousin.
Sirloin tip steak is cut from the top of the round (or hip area), in a region that sits below the top sirloin and the short loin. As you probably guessed, this means that sirloin tip is not as tender as top sirloin.
Because butchers tend to label these two cuts interchangeably, be sure to ask which one you're getting before you make a purchase. In fact, it's a good idea to ask the butcher specifically for sirloin tip steak to avoid any confusion.
Once you know what you're looking for, it's easy to identify sirloin tip by its round and vaguely U-shaped form. It's a lean cut that can be used in stir-fries, stews, kebabs, or as a taco filling. Because it's fairly inexpensive, this cut is a great choice for large gatherings.
Bear in mind that thinly sliced sirloin tip steaks will be more tender than thicker cuts. If the steaks are cut any thicker than 1/2 inch thick (as outlined in our recipe below), a good tenderizing marinade is essential. Fortunately, we've provided a recipe for one of those as well.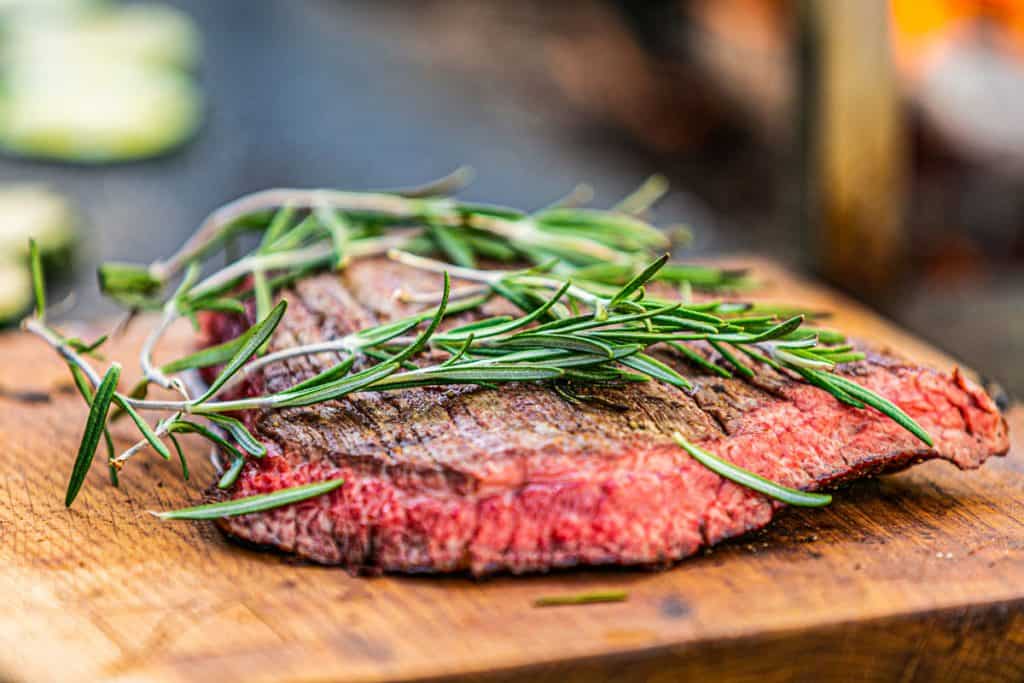 Advice on Grilling Sirloin Tip Steak
Use a marinade with acidic ingredients to promote flavor and tenderness.
Don't cook the steak to a temperature higher than 145 degrees Fahrenheit (or medium). Overcooking the meat will cause it to be unpleasantly dry and chewy.
Use tongs to flip the steak during cooking. Forks will piece the flesh, causing some of the precious juices to run out.
Check the temperature with an instant-read thermometer. Be careful not to touch the fat with the temperature probe, or the readout may be inaccurate.
Trim the steaks to keep excess fat from dripping onto the flames and causing flare-ups.
If your steaks are thicker than 3/4 inch, move them to indirect heat for 2-3 minutes per sides so they can cook to the desired temperature without burning.
Thinner steaks can be seared quickly over high heat. If your grill has a sear station, use it for steaks measuring below 3/4 inch thick.
Always allow steaks to rest for at least 5 minutes after cooking.
Grilled Sirloin Tip Steak with Shallot-Herb Butter
Although the marinade provides a hefty dose of flavor on its own, we've upped the ante with this zesty compound butter. Serve the steaks alongside baked potatoes and grilled asparagus sprinkled with Parmesan cheese.
Ingredients
4 6-ounce sirloin tip steaks, about 3/4 inch thick
For the marinade:
1/3 cup extra-virgin olive oil
3 tablespoons soy sauce or tamari
2 tablespoons balsamic vinegar
2 tablespoons honey
1 tablespoon Worcestershire sauce
2 cloves garlic, minced
1/2 teaspoon freshly ground black pepper
For the Shallot-Herb Butter:
1 stick (8 tbsp) unsalted butter, softened
1 large shallot, minced
1 clove garlic, minced
2 teaspoons fresh parsley, finely minced
1 teaspoon fresh rosemary, finely minced
1 teaspoon fresh thyme, finely minced
1/2 tsp sea salt
1/4 teaspoon freshly ground black pepper
Directions
1. Make the marinade. In a medium nonreactive bowl, whisk together the soy sauce, vinegar, and honey until the mixture is smooth. Add the remaining ingredients and whisk until well blended.
2. Remove the steaks from the fridge and trim if necessary.
3. Place the steaks and marinade in a heavy-duty zip-top bag. Squeeze the bag gently to remove any excess air, then seal and place in the refrigerator. Allow the steaks to marinate for 6 to 24 hours.
Tip: The longer you leave the steak in the marinade, the more flavorful it will be. That said, be sure to remove it after 24 hours, or the meat will be too salty.
4. Make the shallot butter. Mix the shallots, garlic, herbs, salt, and pepper together in a small bowl. Add the softened butter and mix until thoroughly blended.
Tip: If the butter is taking too long to soften, chop it up into smaller pieces. This will expose more of its surface area, allowing it to warm up more quickly.
5. Spoon the compound butter onto a sheet of wax paper and form it into a rectangle. Tuck the edges of the paper up around the butter and place in the refrigerator to chill.
6. When you're ready to cook the steaks, remove them from the marinade and pat dry with paper towels. If the steaks were marinating for less than 12 hours, season with additional salt and pepper.
7. Prepare a medium-hot fire in a charcoal grill. Alternatively, preheat a gas grill to medium-high, or set a pellet grill to 400 degrees Fahrenheit.
For all of you charcoal enthusiasts out there, here's a visual aid on how to grill sirloin tip steak over a charcoal fire.
8. Lightly oil the cooking grates using a neutral oil.
9. Grill the sirloin tip steaks until they reach an internal temperature of 135 degrees Fahrenheit for medium-rare, about 3-4 minutes per side. If you prefer to cook the steaks to medium, wait until the temperature reaches 145 degrees, another 1-2 minutes per side.
10. Remove the steaks to a serving platter and tent with aluminum foil. Let rest for 5-10 minutes. Remember that the temperature will rise another 5 degrees during the resting period.
11. Slice the steak into thin strips across the grain to preserve the texture. Top the slices with the compound butter just before serving.
Sirloin tip steak might not be as well-known as top sirloin. Still, it's a highly versatile and affordable cut that's surprisingly tender when it's properly cooked. Because the marinating process is largely hands-off, it's also a suitable choice for weeknight suppers.
Best of luck, and happy grilling!
Related articles:
Hi there! I'm Darren Wayland, your BBQHost. My love of great barbecue inspired me to curate this site as a resource for all my like-minded fellow pitmasters out there. When I'm not researching and learning all I can about the latest tips and techniques, you can find me at the grill—that is, if you can spot me at all through the clouds of sweet-smelling smoke. And since you asked, yes, that probably is barbecue sauce on my face. Welcome to the party!