If you're in the market for a Weber charcoal grill, you might have noticed that there are a lot of similar units available. Specifically, the Weber Master Touch vs Premium debate is one that sees a lot of traffic in the grilling community.
Since the company invented the world's first kettle-style charcoal grill in 1952, Weber has been an industry leader for decades. In this roundup, we'll see how two of their modern charcoal-fired models compare to one another.
Weber Master Touch Charcoal Grill
The Master Touch is a 22-inch kettle-style grill with a classic profile. Its dimensions are generous and user-friendly, and the ventilation system is well-designed. The user-friendly ash management system helps to distinguish it from run-of-the-mill charcoal-fired units.
Specifications
Dimensions-42″ H X 24″ D X 29.5″ W
Primary Cooking Surface-363 sq in
Secondary Warming Rack-80 sq in
Total Cooking Surface-443 sq in
Grilling Grates-Plated Steel
Pros
Versatile enough to use for grilling or smoking
Extra warming rack adds convenience
Superior packaging makes assembly go more quickly
Excellent ash management system
Cons
Grates can be tricky to clean
Some shipping issues reported
Weber Premium Charcoal Grill
The basic design of Weber's Premium grill makes it an appealing choice for first-timers. It also includes a few useful extras, such as tool hooks and a convenient hinged cooking grate. Like the Master Touch, it offers an ash management system that makes cleanup duties go much more smoothly.
Specifications
Dimensions- 39.5″ H X 27″ D X 22.5″ W(lid closed)
Primary Cooking Surface-363 sq in
Secondary Warming Rack-N/A
Total Cooking Surface-363 sq in
Grilling Grates-Plated Steel
Pros
Affordable price point
Very easy to use, even for first-timers
Quality construction
Lightweight and portable
Cons
Better for high-heat cooking applications than for low and slow projects
Some secondary parts aren't as well-designed as the rest of the grill
Sale
Weber Master-Touch Charcoal Grill, 22-Inch, Black
Holds up to 13 burgers made with a Weber burger press
Slide the lid into the Tuck-Away lid holder on the side of the grill...
Cooking grate is compatible with GBS inserts and is hinged for easily...
Tool hooks for hanging grilling tools, such as a spatula and tongs
Built-in lid thermometer displays your grill's internal temperature....
Sale
Weber Original Kettle Premium Charcoal Grill, 22-Inch, Black
Holds up to 13 burgers made with a Weber burger press; Built-in lid...
One-Touch cleaning system with high-capacity ash catcher provides...
Porcelain-enameled lid and bowl retain heat, and won't rust or peel
Use the lid hook to avoid placing the lid on the ground while grilling
Cooking grate is hinged for easily adding charcoal while grilling
What features do these two grills have in common, and how do they stack up against one another? In this section, we'll help you determine the answer.
Affordability
The Weber Premium is set at a significantly lower price than the Master Touch. Considering that the two grills are the same size, the difference is noticeable. You can expect to spend a bit more on either of these units than you would for a basic 22-inch model.
Of course, the Master Touch has other benefits to help offset the cost (see Standout Features, below). Still, if you have budget constraints, the Premium is the way to go.
Winner: Premium
Ventilation
Both of these grills are equipped with aluminum dampers that are rust-resistant and therefore easy to maneuver. First-timers might require a bit of practice before they get the hang of the system, but it's not that difficult in either case.
The grills also have ingeniously designed interior blades that can be used to open and close the base of the grill as needed. We think the feature is more user-friendly on the Premium version than on the Master Touch.
The top vent on the Master Touch also has a plastic handle, so you can adjust the temperature even when the grill is extremely hot. This unit seems to do an admirable job at maintaining lower temperatures for smoking (see Heat Retention, below). While both grills have adequate ventilation, we would award the top prize to the Master Touch.
Winner: Master Touch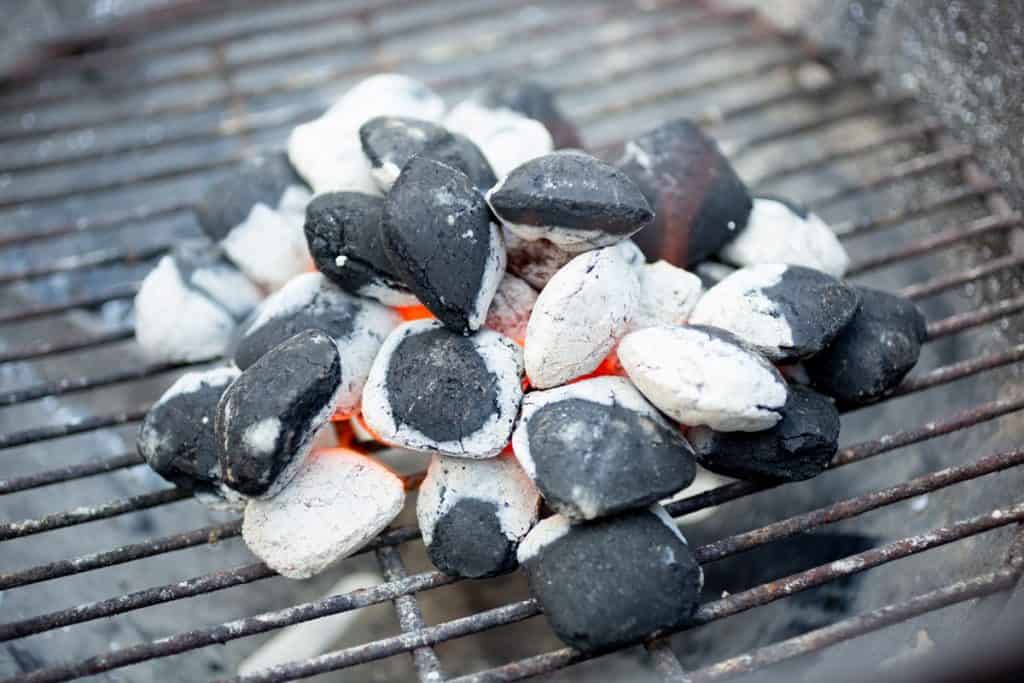 Heat Retention
The Weber Master Touch has a porcelain-enameled bowl and lid, as does the Premium model. This construction allows the grills to hold their heat for long periods of time. It also makes them more durable, so you can expect both units to turn out satisfying results for many seasons to come.
Still, as we mentioned, the Master Touch does better when it comes to long-term cooking applications. If you're looking for a grill that can turn out smoked pulled pork and beef brisket in addition to the typical burgers and hot dogs, the Master Touch should go to the top of your list.
Winner: Master Touch
Grilling Grates
The cooking grates on the Master Touch and Premium grills are composed of plated stainless steel. This material is very good at conducting heat, which gives the food impressive grill marks.
However, steel grates require prompt attention immediately after cooking. Otherwise, they're bound to rust through. On the plus side, they don't need to be seasoned before the first use.
The Master Touch has a cooking grate that's compatible with several inserts, which are sold separately. Even though it costs more to take advantage of this perk, it gives the grill a welcome dose of versatility. We think it's enough to make the Master Touch a winner in this category.
Winner: Master Touch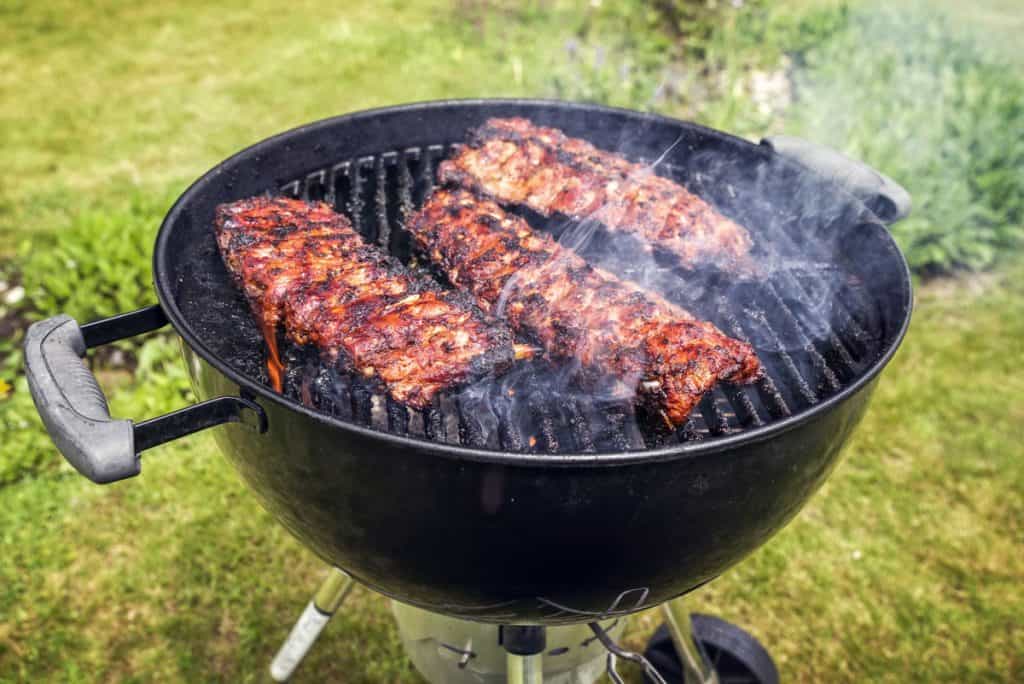 Cooking Surface
The diameters of both grills measure 22 inches across. At first glance, that would seem to result in a draw. However, that's only the first half of the story.
The Master Touch offers a cooking surface that measures 363 square inches. That's enough to hold about 15 hamburger patties, although Weber claims that the number is closer to 13 if you use their customized burger press. The Premium model features the same amount of primary grilling space.
The Master Touch also offers a secondary warming rack in addition to the primary cooking surface. The rack offers an additional 80 square inches and can be used to warm bread products and side dishes. It's also a convenient place to set ingredients that have finished cooking and need a place to rest.
Although the Master Touch is the winner of this round, we should mention that the warming rack isn't always necessary. If you do use the rack, you'll have to spend more time cleaning the grates, which is a deal-breaker for some people. That's one of the reasons why the Premium is still a popular choice.
Winner: Master Touch
Ash Management System
If you look closely at both grills, you're sure to notice the silver cylindrical devices situated just beneath the fireboxes. These aren't just there for show, although they are designed to keep the grills looking tidy. They're compartments that are built to hold ashes and residue.
These ash catchers are removable, making it possible to dump the ashes without the aid of shovels or brushes. They both have a generous capacity as well. Although the Master Touch is the preferred choice for long, slow cooking applications, the ash management systems are similar enough for us to declare a tie here.
Winner: Tie
Temperature Gauge
The Master Touch and the Premium grills are outfitted with built-in lid thermometers. Both feature a rounded dial-style design, with temperatures ranging from 150 degrees to 600 degrees Fahrenheit. Note that this doesn't mean the grills will be able to maintain those temperatures, only that they're capable of reading them.
Are the thermometers reliable? From what we've been able to discern, they are. The Premium model seems to be more consistent, which is why we've declared it the winner. That said, the discrepancy may be due to the fact that the Premium grill has a more limited range overall.
Winner: Premium
Standout Features
Does the Master Touch have anything to offer that the Premium lacks? Or does it work the other way around?
Let's do a Weber Master Touch vs Premium match-up to find out.
Master Touch
Tuck-Away Lid Holder: Keeps the lid off the ground and out of the way during cooking
Warming rack: Increases the overall cooking surface
Hinged Cooking Grate: Compatible with many Gourmet BBQ Systems (GBS) inserts
Premium
Angled Lid Hook: Gives you a place to hang the lid while cooking
Plated Hinged Cooking Grate: Makes it easy to add more charcoal during cooking
Value: This grill is typically more affordable than the Master Touch version
The Bottom Line
Give the Weber Master Touch a try if:
You want to experiment with different cooking techniques
You're looking for a multi-level grill with a secondary warming rack
You're a BBQ aficionado who loves smoked pulled pork
Does this sound like you? If so, take a closer look at the Weber Master Touch.
Consider investing in the Weber Premium Charcoal grill if:
You're looking for a good charcoal-burning unit at an affordable price
You don't expect to take advantage of the warming rack
It's your first time buying a charcoal grill
Burgers, hot dogs, and grilled chicken make up the bulk of your grilling repertoire
Check out the Weber Premium for a basic charcoal grill that won't break the bank.
Hi there! I'm Darren Wayland, your BBQHost. My love of great barbecue inspired me to curate this site as a resource for all my like-minded fellow pitmasters out there. When I'm not researching and learning all I can about the latest tips and techniques, you can find me at the grill—that is, if you can spot me at all through the clouds of sweet-smelling smoke. And since you asked, yes, that probably is barbecue sauce on my face. Welcome to the party!