Sometimes it can be difficult to distinguish one charcoal grill from the next, particularly when they come from the same brand. In this roundup, we'll look at the Weber 22 vs 26 to determine what makes each one unique.
Weber 22 vs 26: An Overview
If you're in the market for a kettle-style charcoal grill, it's hard to go wrong with a Weber. The founder of the company actually invented this type of grill, and the Weber name has been going strong ever since.
The Weber 22 and 26 are so named because they measure 22 and 26 inches in diameter, respectively. Both grills come from the Original Kettle series, which also offers an 18-inch option.
Although Weber has other 22 and 26 inch grills in its lineup, the Kettle Premium line is the only one that includes both options. Because we're looking to perform a side-by-side comparison of the two, these are the ones we'll be reviewing.
Weber Original Kettle Premium Charcoal Grill 22″
Specifications
Dimensions-39.5″ H X 22.5″ W X 27″ D (with lid closed)
Diameter-22 inches
Total Cooking Surface-363 square inches
Grilling Grate-Plated steel
Charcoal Grate-Heavy-gauge steel
Warranty-10 years (bowl and lid)
Pros
Very easy to use, even for first-timers
Durable construction
Excellent heat retention
Convenient ash management system
Cons
Temperature control can be complicated if you don't know what you're doing, especially for low-and-slow cooking applications
Bowl configuration means you have to remove the top grate in order to use a chimney starter
Weber Original Kettle Premium Charcoal Grill 26″
Specifications
Dimensions-42.9″ H X 27″ W X 33″ D (with lid closed)
Diameter-26 inches
Total Cooking Surface-508 square inches
Grilling Grate-Stainless steel
Charcoal Grate-Heavy-gauge steel
Warranty-10 years (bowl and lid)
Pros
Offers plenty of grilling space
Built-in lid thermometer
Extremely versatile
Cleans up easily
Cons
Legs can be tricky to attach when assembling the grill
Unit can be difficult to find
Weber 22 vs 26: Features Face-to-Face
Sale
Weber Original Kettle Premium Charcoal Grill, 22-Inch, Black
Holds up to 13 burgers made with a Weber burger press; Built-in lid...
One-Touch cleaning system with high-capacity ash catcher provides...
Porcelain-enameled lid and bowl retain heat, and won't rust or peel
Use the lid hook to avoid placing the lid on the ground while grilling
Cooking grate is hinged for easily adding charcoal while grilling
Weber Original Kettle Premium 26 Inch Charcoal Grill, Black
Your purchase includes One Weber Original Kettle Premium Charcoal...
Grill dimensions: Lid Closed – 42.9"H x 27"W x 33"D | Primary...
One-Touch cleaning system with high-capacity ash catcher provides...
Slide the lid into the Tuck-Away lid holder on the side of the grill...
Porcelain-enameled lid and bowl retain heat, and won't rust or peel...
Now that we've gone over the basics, let's take a closer look at the features of each model.
Construction
The bowl and lid on the 22- and 26-inch models are constructed of porcelain-enameled steel. This material is rust-resistant and easy to clean. It also holds its heat well, so you shouldn't need to add coals as often as you might with a lesser model.
The Premium series offers another perk: a removable ash catcher, which is made of aluminum. The ash catcher has a generous capacity, thereby cutting down on the amount of time you'll need to spend emptying it. This feature also gives the grill a sleeker appearance.
Both units are equipped with glass-reinforced nylon handles on the bowl and lid. The lid handle is protected by a heat shield, which eliminates the need for oven mitts when checking your progress. Rust-resistant aluminum dampers can be found in both lids as well.
The grills are identical in terms of durability. For that reason, we're calling a draw in this category.
Winner: Tie
Grilling Grates
For the charcoal grates, Weber offers a heavy-gauge steel construction for both the 22- and 26-inch Premium units. The actual cooking grates, meanwhile, are slightly different.
The cooking grate on the 22-inch unit is made of plated steel, which is durable and easy to clean. The 26-inch version features regular stainless steel grates. In both cases, the grates are hinged so that you can add more charcoal to the fire during the cooking process.
The grates should last for several years with the proper care. However, since the cooking grids on the 22-inch model offer an extra layer of protection, we'll give it the edge here.
Winner: 22″
Maneuverability
These grills are outfitted with two sturdy wheels, which are capable of withstanding plenty of punishment from the elements. In both cases, they make it possible to move the grill from one side of the property to another.
We can't fault the quality of the wheels in either case. Still, the 22-inch version should be easier to move because it's smaller and more compact. If it's maneuverability you're after, we would recommend the Weber 22 over the 26.
Winner: 22″
Grilling Surface
On the other hand, if you need a grill with plenty of cooking space, you can't go wrong with the 26-inch model.
The larger version of the Original Kettle Premium grill features a cooking surface that measures 508 square inches in total. That should give you enough space to accommodate 25 regular-sized hamburger patties.
The 22-inch model, by contrast, offers just 363 inches, or enough to fit about 17 patties. This makes the difference in diameter seem much more pronounced than it looks on the surface.
While 363 square inches is nothing to scoff at, the 26-inch unit adds a degree of versatility to the grilling experience. The size increase makes it easier to cook large cuts of meat, like beef brisket and pork butt. You can also use the grill to slow-roast whole chickens.
Winner: 26″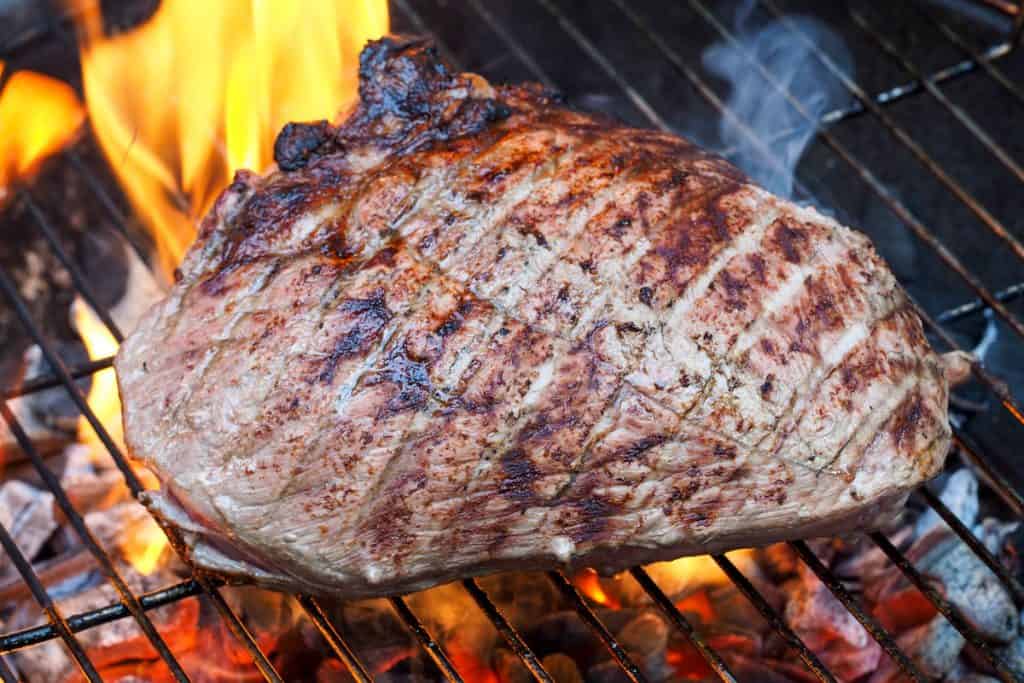 Ash Management System
Weber offers its One-Touch cleaning system for each of these units. These consist of high-quality damper blades and damper control rods to allow for easy ash removal.
On the 22-inch model, the components of this system are made of aluminized steel. The 26-inch version offers the same system, but with a stainless steel construction.
Although aluminized steel conducts heat better than stainless steel, that's not particularly relevant when it comes to the damper system. Since stainless steel is the stronger of the two, the 26-inch model earns higher marks.
To keep the One-Touch cleaning system operating at its peak, make sure to clean the bowl of the kettle grill regularly. If small pieces of charcoal fall through the grate, they can jam up the system, causing the blades to curl upward when you apply pressure to the handle.
Should you feel any resistance when you push the cleaning handle, carefully turn it in the other direction. This should free up the blades, allowing you to remove the obstruction.
Winner: 26″
Heat Retention and Temperature Control
Both grills are outfitted with a built-in lid thermometer to help grillers keep an eye on the internal temperature as they cook. This is a benefit that many kettle-style grills lack, and it comes in especially handy during indirect cooking applications.
The premium construction and superior design of the Weber kettle grills help the units retain their heat for long periods of time. Because the air vents are made of rust-resistant aluminum, they can be moved easily, giving you better control over the temperature.
The 22-inch unit also offers a low and slow vent setting, so this unit can pull double duty as a smoker. It can be difficult for amateurs to get a grasp on how this system works at first. Nonetheless, it's an impressive feature that gives the smaller Weber the top prize in this department.
Winner: 22″
Ease of Assembly
Assembling a charcoal grill is fairly straightforward. There are no gas lines or electrical components to deal with, and it's generally easy to tell which parts go where.
This is also true of the grills in the Original Kettle Premium series by Weber, with one minor exception. The 22- and 26-inch grills use a spring clip/push pin leg assembly, which is designed to be easier on the buyer. On the smaller unit, the system works as it should.
However, the legs on the 26-inch unit can sometimes require a bit of fiddling around. We're not sure if this is due to the increase in size or a simple design flaw. At any rate, the 22-inch grill is easier to put together than the larger one.
Winner: 22″
Warranty
These units come with a 10-year warranty on the lid and bowl. This means that the buyer is entitled to free replacements if either of those components should burn or rust through during the first decade of use. Weber's One-Touch cleaning system, present in both units, is covered for a 5-year period.
Any plastic components are under warranty for 5 years following the date of purchase. This number excludes any cosmetic damage due to discoloration and fading. All other parts come equipped with a 2-year warranty.
Weber's warranty coverage is quite impressive by charcoal grilling standards. Since it's the same for both units, however, there's no winner in this category.
Winner: Tie
Standout Features
There's no doubt about it—these grills have plenty in common. Aside from the difference in size, they're virtually identical in most of the top categories. So, are there any particular features that set the two apart? Here's a closer look.
Weber Original Kettle Premium Charcoal Grill 22″
Angled lid hook—This is set inside the lid of the grill to allow for easy storage
Color choice—The 22-inch model is available in four colors: black, copper, green, and crimson
Weber Original Kettle Premium Charcoal Grill 26″
Tuck-away lid holder—Clever design that allows the grill to sit off to the side while the grill is in use
Char-Basket charcoal fuel holders—These make it easier to arrange the coals for either direct or indirect heating
Color choice—The 26-inch model is available in black and glen-blue
Low and slow vent setting—Can transform the grill into a smoker
In Conclusion
Use the Weber 22 if:
You want the option of using the grill as a smoker
You want a broad color selection
You only cook for 3 or 4 people on a regular basis
You're looking for cooking grates that are easy to clean
Consider investing in the Weber Original Kettle Premium 22-Inch if you checked off most of these boxes.
Take a look at the Weber 26 if:
You need a lot of cooking space
You frequently use indirect heat when grilling
You can afford to spend a bit more for a larger grill
Check out the Weber Original Kettle Premium 26-Inch grill if these perks are more appealing to you.