Pellet grilling is serious business for a lot of people, myself included. As a true BBQ aficionado, I'm always on the lookout for tools that can help me improve my craft. Does the Traeger BBQ075 fit the bill? Read on to find out.
Traeger has been a pioneer in the industry ever since the company patented the first pellet grill in 1986. For a long time, their models were the only ones available. As you know, today the competition is fierce, with many manufacturers jockeying for repeat business.
The BBQ075 is only one model in Traeger's lineup, but it strives to cement the company's position as top dog in the pellet grilling world. Be forewarned that this is not a grill for beginners or people who only cook outdoors on a seasonal basis. By offering the BBQ075, Traeger is calling out to serious BBQ fans.
Pros:
Plenty of grilling space
Built out of quality materials
Hopper cleanout feature
Impressive grease management system
Cons:
No internal meat probe
Bulky, awkward design
Traeger BBQ075: Features & Benefits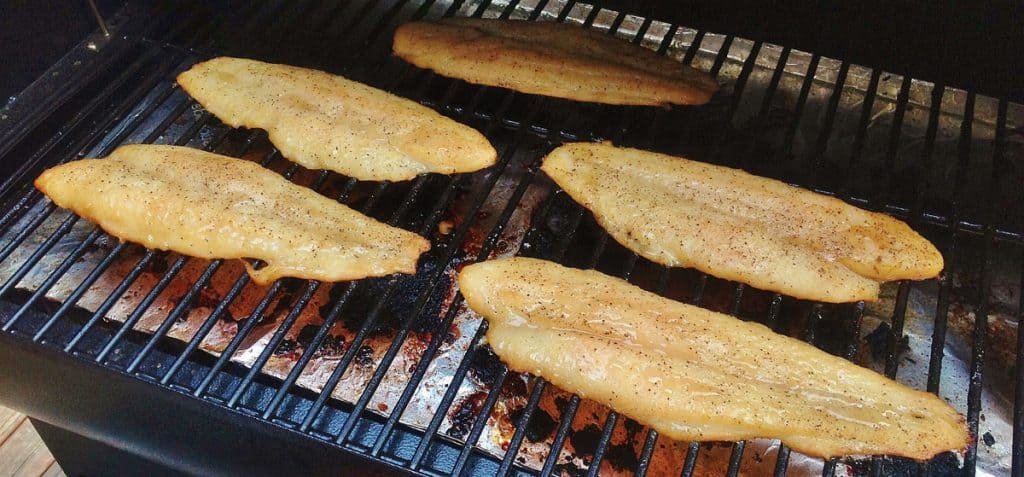 Here, we'll get into the features that set the Traeger BBQ075 apart from the competition.
Design
Like most of the grill's in Traeger's generous lineup, this one comes with a barrel-shaped cooking chamber. It has a cart-style design with straight legs and two locking caster wheels, with larger wheels located on the right-hand side.
A broad bar-style handle is affixed to the lid for easy access to the firebox. There's no shelving unit available, but it's possible to use the hopper lid for storage and prep if needed. The chimney is set a good distance away from the grease drip bucket, which makes it easier to remove the latter for cleaning.
In our opinion, the legs are on the flimsy side for a grill this size. However, they do seem to support the weight of the unit, so this is an aesthetic complaint rather than a practical one.
Construction
All of Traeger's grills have a reputation for quality and durability, and this one doesn't disappoint. With its powder-coated heavy-duty steel construction, it's designed to maintain its integrity for many years after that first cookout.
The cooking grates are fashioned out of porcelain-coated stainless steel. This is a combination that provides excellent heat retention while keeping cleanup duties to a minimum. For more input on how to maintain the grill, see Cleanup and Maintenance, below.
Grilling Capacity
This model boasts a total cooking capacity of 646 square inches. According to Traeger, this is sufficient for 6 whole chickens, 32 hot dogs, 9 rib racks, or 24 hamburger patties. Often, manufacturers will exaggerate the capacity in order to sell more units, but in this case, we think these estimates are accurate.
One word of caution: Traeger typically offers a recipe booklet as a supplement to their user manual. While the recipes are decent, we don't think they're anything special. You're bound to get better results by following your own recipes instead.
Hopper Size
A unit this large requires a generously-sized hopper–that is, if you don't want to spend all your time restocking the fuel supply. Fortunately, the Traeger BBQ075 offers a hopper with a 20-pound capacity.
To put it in practical terms, this is enough for roughly 20 hours of high-heat grilling, 40 hours of smoking or braising, or a combination of the two. Whichever application you choose, this grill should provide you with hours of carefree cooking.
Heat Retention
The stainless steel lid helps to trap in the heat and smoke, giving the Traeger BBQ075 better heat retention than many large pellet grills. It can be difficult for the cookbox to maintain a stable temperature when the grilling surface is spread out over 646 square inches, but this unit manages to pull it off.
Remember that the grill might take a while to reach the set temperature, especially if you're using it during the winter months. If it's cold outside, be sure to fire up the grill at least 45 minutes before you plan to start cooking.
Temperature Range
The Traeger BBQ075 has an adjustable knob that allows you to set the temperature anywhere between 180 and 375 degrees Fahrenheit. There's also a "Smoke" setting, which prompts the fire to burn even lower, and a "High" setting, which allows the temps to hit a high of about 450 degrees.
The digital control panel features an LCD screen that's easy to read, something that was lacking in earlier Traeger models. The 11 knob adjustments make it easier to fine-tune the temperature to your liking. There's also a "Medium" setting, which is ideal for slow-cooking applications such as braising.
Because there's no internal meat probe, you'll need to use a separate digital thermometer to check on your meat's progress. However, the controller is equipped with an automatic shutoff option that will empty out the auger as the pellet grill cools.
Ease of Assembly
Traeger claims that this grill takes only 15 minutes to assemble. That may be the case if you have several engineers on hand to help, but it's not a practical estimate. We would recommend setting aside at least two hours to put this unit together.
Looking on the bright side, the grill does come with a precise set of instructions that are easy to follow. When all the components are in place, the assembly process should go smoothly.
Cleanup and Maintenance
We've already mentioned the easy-to-clean porcelain-enameled cooking grates, but Traeger has more to offer in the convenience department.
The grease management system funnels the drippings into a steel bucket, which detaches from the side of the grill when it's ready to be emptied and cleaned. Lining the bucket with foil makes cleanup even easier.
The hopper is also equipped with a cleanout feature. This means that you can switch out pellets during cooking without waiting for the last batch to burn through first. It's a small touch, but a welcome one, especially if you like to finish off smoked brisket with a dose of hickory or mesquite.
Warranty
Traeger offers a 3-year warranty with the purchase of the BBQ075. This guarantees free replacement parts for the covered period, as long as the damage was due to a product defect and not the result of regular wear and tear.
Note: If you purchase the grill secondhand, the warranty no longer applies.
Social Proof
If you're wondering what other buyers had to say about the Traeger BBQ075, you're not alone. That's exactly what we were hoping to find out when we scoured the internet for positive user reviews.
The versatility of the unit was praised on more than one occasion, especially from those who had used inferior pellet grills in the past. Like most of Traeger's grills, this one was said to impart delicious smoke flavor. Several people went on record to say that the unit was simple to assemble and very user-friendly.
Possible Alternatives
If you can't find the Traeger BBQ075 (see The Bottom Line, below) or if you just want something different, take a look at one of these alternatives.
#1 Z Grills ZPG-6002B
With just 601 square inches of cooking space, this is a smaller option, but it should still be large enough to suit most families. It also boasts a side shelf with a built-in bottle opener and conveniently placed tool hooks.
How they compare:
Design-Traeger
Construction-Traeger
Grilling Capacity-Traeger
Hopper Size-Traeger
Heat Retention-Traeger
Temperature Range-Z Grills
Ease of Assembly-Z Grills
Cleanup and Maintenance-Traeger
Warranty-Tie
Check out the ZPG-6002B if you're looking for a more affordable plus-sized model.
#2 Ozark Grills Razorback
With a grilling surface that measures just 305 square inches, this unit is designed for grillers who have a limited amount of space to work with. The build is sturdy yet lightweight, with a lid that offers great heat retention.
How they compare:
Design-Ozark
Construction-Traeger
Grilling Capacity-Traeger
Hopper Size-Traeger
Heat Retention-Tie
Temperature Range-Tie
Ease of Assembly-Ozark
Cleanup and Maintenance-Ozark
Warranty-Tie
If you're in the market for a smaller and more lightweight cart-style grill, the Ozark Grills Razorback could be the one for you.
#3 Big Horn Outdoors Pellet Grill and Smoker
This offering from Big Horn Outdoors is slightly larger than the Traeger BBQ075, but it comes at a significantly lower price. As a bonus, it's also easier to find. Be forewarned that the company doesn't offer a warranty with the purchase, so buy at your own risk.
How they compare:
Design-Big Horn
Construction-Traeger
Grilling Capacity-Big Horn
Hopper Size-Traeger
Heat Retention-Tie
Temperature Range-Traeger
Ease of Assembly-Big Horn
Cleanup and Maintenance-Traeger
Warranty-Traeger
For a grill that offers maximum space at a minimum price, give the Big Horn unit a shot.
Frequently Asked Questions
Is pellet grilling bad for the environment?
Not at all–at least, it's better for the environment than grilling with gas or charcoal.
Because wood pellets are made from byproducts that would otherwise be thrown away, they count as a renewable energy source. The pellets also don't require any chemicals like lighter fluid in order to ignite.
Has the Traeger BBQ075 been discontinued?
Sadly, yes. This particular model is no longer available through major online retailers, nor can it be found on Traeger's website. However, you may be able to find one secondhand if you perform a thorough online search.
Which wood pellets give the best smoke flavor?
That's a matter of opinion. While some people prefer the strong flavor of hickory, others are drawn to milder woods like maple and pecan. We would recommend experimenting with different flavors until you find a combination that works for your ingredients.
The Bottom Line
We would feel comfortable recommending the Traeger BBQ075 if it weren't for one detail: The grill is unavailable for purchase through most online retailers. It's even difficult to find on Traeger's website. For this reason, we would suggest investing in the Z Grills ZPG-6002E instead.
While Z Grills doesn't offer the same longevity that you'll find in a Traeger model, this is an attractive and efficient grill with plenty of cooking space. It's versatile enough to be used for char-grilling, braising, smoking, baking, and everything in between. Unlike some pellet grills, it imparts an impressive sear on grilled steaks and pork chops.
Click here to find out more about the Z Grills ZPG-6002E.
Hi there! I'm Darren Wayland, your BBQHost. My love of great barbecue inspired me to curate this site as a resource for all my like-minded fellow pitmasters out there. When I'm not researching and learning all I can about the latest tips and techniques, you can find me at the grill—that is, if you can spot me at all through the clouds of sweet-smelling smoke. And since you asked, yes, that probably is barbecue sauce on my face. Welcome to the party!