Some outdoor chefs prefer to keep more than one type of grill on hand. After all, gas grilling is more convenient, while charcoal fires offer more flavor. So why not have the best of both worlds? Fortunately, there's an even better solution out there.
With combo grills, there's no need to buy more than one unit. A grill that offers both gas and charcoal options–or more–can be a great investment. These Pit Boss Memphis Ultimate 4 in 1 Grill Reviews will help you decide whether this particular model is worth it.
The Pit Boss label was created by Dansons, Inc., a company that dates back to 1999. Their grills have a reputation for fine, sturdy craftsmanship, and the company offers personalized customer service. In 2017, Dansons received the Entrepreneur of the Year award from EY.
With the Memphis Ultimate 4 in 1 Grill, Pit Boss has attempted to outshine the competition with a unit that offers both gas and charcoal options, in addition to an electric smoker component. This makes it more versatile than other combo models such as Pit Boss's own PB1230, which comes with pellet and gas options, but no smoker.
Pros:
Enormous grill built with heavy materials
Versatile unit with gas, charcoal, and smoker options
Great customer service department
Product usually arrives in great condition, with no parts missing
Cons:
Time-consuming assembly
Misleading product description
Many components (such as the charcoal tray) are not built to last
Things To Consider Before Buying a Combo Grill
Although combo grills are prized for their versatility, they're not the right fit for every griller.
For one thing, they take up a great deal of room. The Memphis Ultimate is especially guilty of this, since it has two separate sections for gas and charcoal. If space is an issue, you might want to rethink a combo unit.
There's also no reason to buy a combo grill if you won't make use of all the components. In this case, the electric smoker is a fine perk, but only if you're interested in smoking your own meat products. Otherwise, it would just be a waste of space.
Let's say you prefer to grill with charcoal on a regular basis, but want the option of firing up a gas grill when you're pressed for time. You also want to experiment with making your own beef jerky. If this sounds like you, then the Memphis Ultimate could be a good fit.
What should you look for in a combo grill? Here are just a few factors to consider:
Affordability: Most combo grills are fairly expensive, but it's important to choose one that fits within your budget
Size: Make sure you have enough space to accommodate the grill, and that it offers enough surface area to suit your needs
Durability: The components should be heavy-duty and built to last
Heat Retention: If the construction is solid, then the grill should be able to hold its heat well
Reliability: Any gas-powered or electrical components should be dependable and efficient
Ease of Assembly: Combo grills may take longer to put together than single-fuel units, but the process shouldn't be a hassle
Warranty: Check to see if free replacements are available in case any of the components fail within the first few years of use
Features and Benefits: Pit Boss Memphis Ultimate 4 in 1 Grill Reviews
Let's take a look at the different components of the Pit Boss Memphis Ultimate 4 in 1 Grill.
Gas Grill
On the left-hand side of the unit, you'll find a three-burner gas grill that offers 663 square inches of cooking space. The burners are made of stainless steel and offer a combined BTU output of 36,000, which is a decent total for a grill of this size. A secondary warming rack can be used for hamburger buns or garlic bread.
This component of the grill is equipped with "Flame Tamers" on the gas burners. These are designed to create a barrier between the heat source and the grilling surface, thereby keeping flare-ups to a minimum. They also convert the fat and drippings into a flavorful smoke that gives the food a more authentic grilled taste.
One more note about the gas grill: The grease tray can only be accessed from the rear of the grill. Depending on the configuration of your outdoor kitchen, this could be a deal-breaker.
Charcoal Grill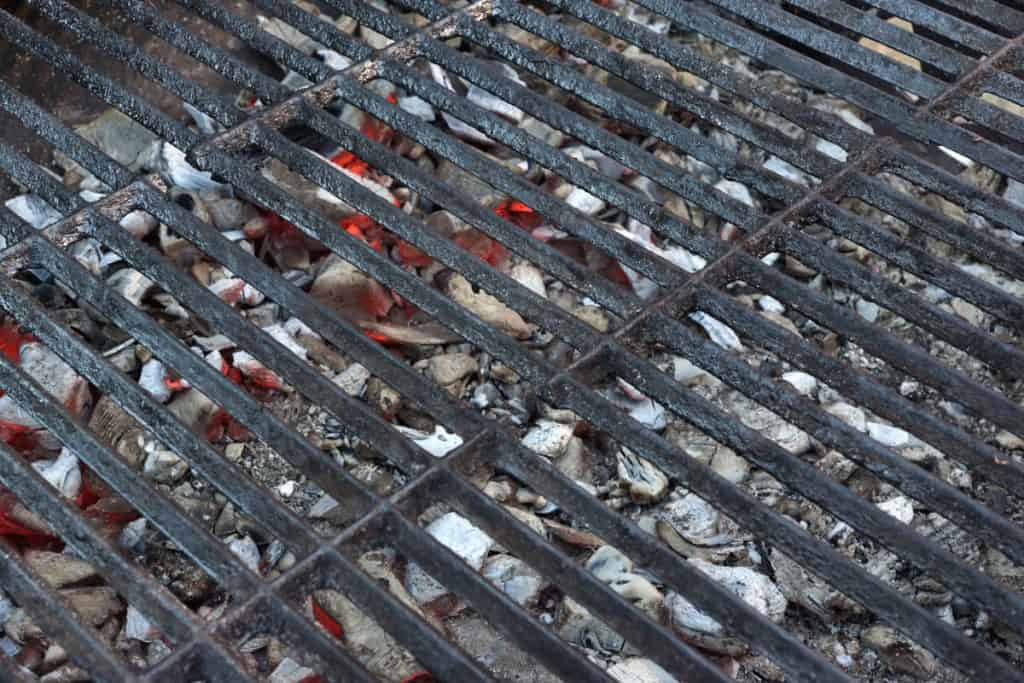 The charcoal-burning unit is located on the right-hand side of the grill and offers the same amount of cooking space, 663 inches. It comes equipped with a fully adjustable charcoal tray that features six different height settings. The "6" setting moves the coals closer to the food for searing, while the "1" setting is designed for indirect cooking techniques.
A series of air vents can be found on the front of the charcoal grill. They're large and oval-shaped, allowing the user an excellent degree of control over the airflow. This aspect, coupled with the adjustable charcoal tray, makes it easy to control the temperature of this half of the grill.
Electric Smoker
In the lower center section of the Memphis Ultimate, you'll find the electric smoker. It's powered by a 1,500-watt heating element, which wraps around the wood tray to get the smoke flowing in a hurry. The unique design of this element makes it the smoker's best feature.
In addition to the analog control knob (more on that later), there are two silver knobs affixed to the top of the smoker component. The one on the left directs smoke into the gas section, while the one on the right does the same for the charcoal-burning side. This is another nice touch that ties the smoking element into the other aspects of the grill.
While this component offers more total surface area than the gas or charcoal aspects–840 square inches in all–that number is somewhat misleading. The cooking space is spread out over three separate shelves, meaning that the ingredients have to be spaced out. This makes it difficult for the smoker to accommodate larger cuts of meat, like whole rib racks.
Additionally, the smoker is powered by an analog control knob. Unlike some similar units, there are no "high" or "low" settings. Instead, you have to experiment with different configurations in order to achieve the correct temperature. It's a process of trial and error that's likely to turn some people off.
One final note: The water pan sits inside the main cooking chamber, so it can only be accessed by opening the door of the smoker. This allows precious heat and smoke to escape if you need to refill the pan.
Construction
The Pit Boss Memphis Ultimate is made of stainless and enameled steel. The enameling is present in the lid and firebox, which helps the unit retain its heat. Meanwhile, the control panels and some secondary materials feature a stainless steel construction. Note that the electric smoker also features a glass door, so you can check your progress.
The cooking grates for the gas and charcoal sections feature a porcelain-enameled cast iron construction, which is the ideal combination in my opinion. They're built to last and the coating helps them clean up easily. Best of all, they offer superior heat retention, so the food cooks evenly.
For the smoker component, Pit Boss offers porcelain-coated steel cooking grates. These aren't quite as durable as their cast iron counterparts, but they're not getting the same kind of direct heat exposure, either. As long as they're cleaned regularly, they should last for several years.
Thermometers
Separate thermometers are built into the lids of the gas and charcoal sections. There's also a thermometer located on the glass door of the smoker.
The top two thermometers seem to work well, but the one on the smoker can be unreliable. That may be due to the tricky nature of the analog control knob, but it's something to be aware of nonetheless.
Assembly
Pit Boss has done an admirable job with the packaging and shipping here. The unit usually arrives with all of the parts in place, and the constructions are clear and concise.
That said, putting this grill together is a two-person job. You can also expect it to take five to six hours from start to finish.
Warranty
Since September 2018, Pit Boss has offered a 5-year warranty on most major components of their grills and smokers. The guarantee covers all steel parts, electrical components, thermometers, and caster wheels. Be forewarned that it doesn't cover rust or oxidization issues that result from normal wear and tear.
Other Features
The grill is flanked by two side shelves, which offer plenty of space for condiments or food preparation. A set of three heavy-duty hooks is affixed to each shelf, and two large drawers round out the storage space.
The Memphis Ultimate also comes with four locking caster wheels. This means that the grill will be easy to move when necessary, and perfectly stable once it's in place.
The Missing "4"
So far, we've covered the three main components of the Memphis Ultimate: gas grill, charcoal grill, and electric smoker. So what's the mysterious fourth component that makes this a "4-in-1" unit?
Interestingly, there doesn't seem to be one. Some retailers claim that the grill is outfitted with an infrared burner, but that clearly isn't the case. While the unit is flanked by two side shelves, there's no burner on either one of them. Moreover, the Pit Boss website doesn't market this unit as a 4-in-1 model at all.
Our best guess is that the original design included an infrared burner, but the idea was scrapped before the product hit the shelves. Meanwhile, the marketing scheme for the grill went on as planned, with retailers assuming that the infrared burner was still part of the program.
Social Proof
When it comes to customer response, the Pit Boss Memphis Ultimate 4 in 1 Grill reviews were largely disappointing.
While a few did say that gas and charcoal segments performed reliably, the majority claimed that the smoker component was disappointing and that many components were prone to rusting. On the whole, the unit received more negative reviews than positive ones. The consensus was that the combo grill wasn't worth the higher price tag.
Possible Alternatives
Since we've determined that the Pit Boss Memphis Ultimate 4 in 1 isn't the best in its class, let's take a look at a few of its closest competitors.
#1 Oklahoma Joe's Charcoal/LP Gas/Smoker Combo
This impressive barrel-shaped grill boasts an offset smoker that delivers genuine flavor and an authentic barbecue experience.
How They Compare
Affordability: Oklahoma Joe
Construction: Oklahoma Joe
Versatility: Tie
Cooking Space: Pit Boss
Warranty: Pit Boss
Give the Oklahoma Joe combo a try if you don't want a smoker with an electrical component.
#2 Royal Gourmet 3-Burner Gas/Charcoal Grill Combo
There's no smoker attachment available for this grill, but it's also set at a lower price point. It could be a good fit if you're on a budget and don't plan on using the smoker component anyway.
How They Compare
Affordability: Royal Gourmet
Construction: Royal Gourmet
Versatility: Pit Boss
Cooking Space: Pit Boss
Warranty: Pit Boss
If this sounds like it would be right up your alley, check out Royal Gourmet's offering.
#3 Smoke Hollow 4-in-1 Combo Grill
Unlike the Pit Boss Memphis Ultimate, this unit does come equipped with a side burner as its fourth option. The quality isn't as high, but if you're looking for the versatility of a separate burner, then this could be the grill for you.
How They Compare
Affordability: Smoke Hollow
Construction: Pit Boss
Versatility: Smoke Hollow
Cooking Space: Pit Boss
Warranty: Pit Boss
For a grill that covers all the bases, consider investing in the Smoke Hollow 4-in-1 model.
The Bottom Line
Now that we've gone over the specifics, would we recommend the Pit Boss Memphis Ultimate 4 in 1 Grill?
It's a difficult call. The product has plenty of good qualities, namely the ability to eject smoke into the gas and charcoal segments. But overall, the grill doesn't deliver as advertised. The lack of an actual fourth component, combined with the low quality of most secondary parts, would lead us to recommend the Oklahoma Joe grill instead.
While this grill is smaller than the Pit Boss, it features an offset smoker that combines convenience with real smoke flavor. The grill should last through many seasons of regular use, and the design is attractive and user-friendly.
Click here to take a closer look at Oklahoma Joe's Charcoal/LP Gas/Smoker Combo.
Hi there! I'm Darren Wayland, your BBQHost. My love of great barbecue inspired me to curate this site as a resource for all my like-minded fellow pitmasters out there. When I'm not researching and learning all I can about the latest tips and techniques, you can find me at the grill—that is, if you can spot me at all through the clouds of sweet-smelling smoke. And since you asked, yes, that probably is barbecue sauce on my face. Welcome to the party!