When it comes to choosing a pellet grill, you want to know everything that you can about the product before shelling out your hard-earned cash. One of the best ways to do that is to perform a side-by-side comparison with a hot competitor.
When you've finished reading this roundup of Cabela's pellet grill vs Traeger, you'll have a better idea of which one should earn your business.
Cabela's Pellet Grill
This line of pellet grills is available for sale through Cabela's and Bass Pro Shops. Their founder, Johnny Morris, began the company in 1972 in the rear of his family's liquor store. Today, both names are synonymous with outdoor adventures. It's no wonder that they've decided to enter the popular world of pellet grilling.
Because the company manufactures more than one grill, the specifications can vary. For the purposes of this Cabela's pellet grill review, we've chosen the Pro Series 24″.
Specifications
Dimensions-50.6″ H x 48.4″ W x 25.2″ D
Total Cooking Space-671 sq in
Weight-145 lbs
Temperature Range-180-500 degrees Fahrenheit
Hopper Capacity-N/A
Pros
Transparent windows on both hopper and cooking chamber
Generous cooking surface
Distinctive and eye-catching design
Open-flame sear station included
Cons
On the pricey side, especially given the quality of the materials
Control panel can be finicky
Traeger
Traeger's products are renowned for their sturdiness and longevity. The company actually invented the pellet grill, so there's no doubt that they know what they're doing. Today, they offer a wide range of quality grills, from tailgating units to extra-large models.
The Traeger Pro Series 22 is the closest competitor that we could find to Cabela's Pro Series 24″. Here's how they compare in terms of basic specs.
Specifications
Dimensions-49″ H x 41″ W x 27″ D
Total Cooking Space-572 sq in
Weight-103 lbs
Temperature Range-180-450 degrees Fahrenheit
Hopper Capacity-18 lbs
Pros
Hopper is easy to clean
Digital controller is reliable and user-friendly
Sturdy base and durable construction
Equipped with Traeger's Advanced Grilling Logic
Cons
High upfront price
Maximum temperature could run hotter than it does
Cabela's Pellet Grill vs Traeger: Features Face to Face
Design
If you've ever seen one of Cabela's pellet grills before, you're bound to recognize this one at first glance. Their models boast a unique elliptical design with a wide transparent window on the lid. This makes the cooking area exceptionally roomy and allows you to keep an eye on what's going on inside.
The Pro Series 24″ is a cart-style unit with straight legs and a lower storage shelf. Additional shelving is available on the right-hand side, and the lid of the hopper is flat enough to double as another shelf if needed. All of the legs are outfitted with wheels, and the ones on the left-hand side come with locking casters for stability on uneven terrain.
Traeger's Pro Series 22 model is outfitted with the company's signature barrel-style cooking chamber and sawhorse chassis design. Two of the legs end in oversized wheels, but the other legs have broad, flat bottoms.
The Traeger doesn't have any shelving to speak of, but again, the hopper lid can be used as a shelf in a pinch. There are also three tool hooks located on the side of the hopper, a feature that Cabela's unit lacks.
Both of these grills have plenty to offer when it comes to eye appeal. However, because Cabela's grill is more distinctive and features more storage space, it wins this round handily.
Winner: Cabela's
Materials
The best pellet grills will offer a heavy-duty steel construction and a powder-coated finish. Some brands might also make stainless-steel models, which are both durable and rust-resistant. In either case, the materials should be sturdy enough to withstand both high heat and inclement weather.
In this regard, Traeger earns higher marks across the board. The powder-coated steel construction ensures that the grill will retain its solid appearance for years to come. By contrast, Cabela's offering is somewhat flimsy, incurring additional maintenance costs within the first year or two of use.
On the subject of cooking grids, both of these grills feature porcelain-coated steel racks that clean up well after each use. However, because Traeger's are more solidly built, you can expect them to last longer than the ones from Cabela's.
Winner: Traeger
Size
No Cabela's pellet grill review would be complete without mentioning the generous grilling capacity of the Pro Series 24″. The unit features 671 square inches overall, and it comes with an upper rack that can be adjusted or removed for your convenience. With a grill this size, you can easily host parties of 6 to 8 people.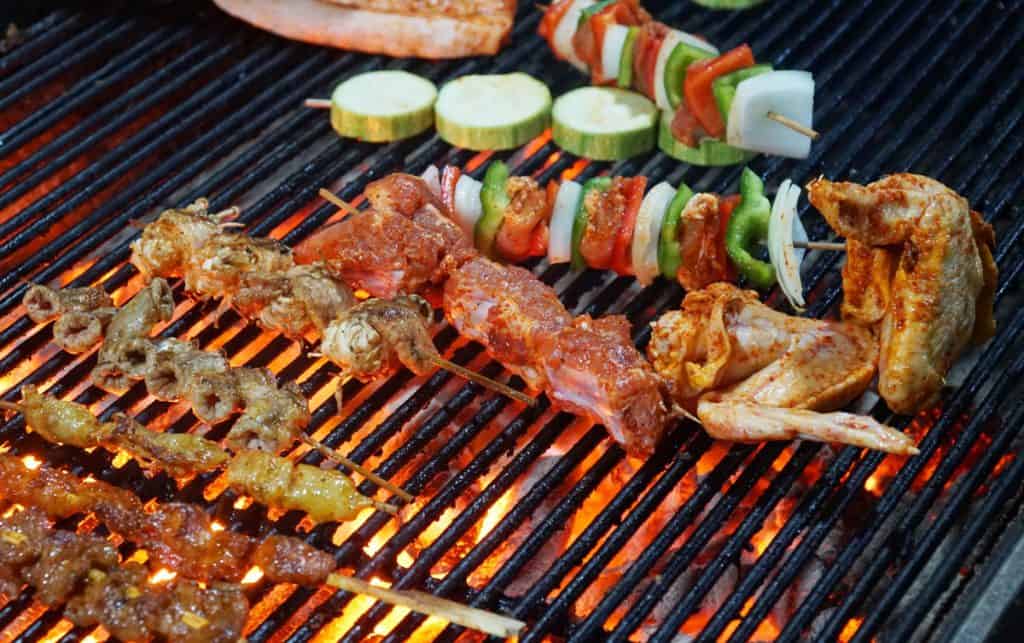 Traeger's Pro Series 22 model, meanwhile, boasts 572 square inches of cooking space. 418 square inches are available on the main surface, while the upper warming rack includes the additional 154 inches. Traeger claims that you can fit 24 burgers on this grill, but we would estimate that the number is closer to 20.
There's no doubt that the Traeger Pro Series 22 has plenty to offer. However, if it's sheer cooking capacity that you're after, Cabela's offering is the clear choice.
Winner: Cabela's
Hopper Capacity
The information about the hopper capacity for Cabela's Pro Series 24″ model is maddeningly incomplete. While the company boasts that the hopper is "generously sized," there's no mention of its actual capacity. Based on the images, we would guess that it can hold a 20-pound bag of pellets, but it's difficult to tell for certain.
The Traeger Pro Series 22 has a hopper capacity of 18 pounds. This is fairly standard for most pellet grills in this size range. Since the grill should go through about 1 pound of pellets per hour at high temps and 2 pounds per hour for low-and-slow cooking, you can expect to grill for about 9 to 18 hours before you have to replenish the fuel supply.
Cabela's model may not have any hard numbers available, but the hopper does have one feature that bears mentioning: It has a see-through window that allows you to keep an eye on the fuel level during cooking. It's not enough to give the Pro Series 24″ the edge in this category, but it's a nice perk nonetheless.
Winner: Traeger
Heat Retention
Now for the bad news: Cabela's Pro Series 24″ model has a crucial flaw that makes it difficult to recommend. The chimney is poorly designed, allowing smoke and heat to escape out the top of the cooking chamber. Many cheaply made grills share this characteristic, but it's particularly surprising when you factor in Cabela's prices.
The Traeger model, by contrast, is designed to keep the heat right where it's supposed to be. The high-quality materials are largely responsible for this, but the company also knows how to design a grill that delivers an optimal performance.
That said, we should point out that the Pro Series 22 doesn't have a very impressive maximum temperature. We'll get into that more in the next section.
Winner: Traeger
Temperature Control
This is one of the most debated topics among seasoned pellet grillers. While many manufacturers like to claim that theirs is the most reliable and versatile unit on the market, reality often plays out differently.
For example, Cabela's pellet grill advertises a temperature range of 180 to 500 degrees Fahrenheit. In theory, this is a good thing. It would allow you to set the temps low enough to make your own beef jerky, then turn the flames up higher to sear a steak for dinner.
However, as we mentioned, Cabela's unit has a chimney that lets too much heat out during cooking. This flaw cuts down on any potential benefit that the broader temperature range might have offered. Because smoke flavor is so important in pellet grilling, it's interesting that Cabela's hasn't addressed this issue.
Traeger doesn't earn particularly high marks here either. With a maximum temperature of just 450 degrees, the Pro Series 22 isn't the best grill for delivering those prized sear marks. In its defense, though, the Advanced Grilling Logic (see Standout Features, below) helps the unit remain within 15 to 20 degrees of the designated temperature.
In short, if you're planning to use the grill mainly as a smoker, you'll probably be happier with Traeger's model. If it's impressive sear marks you're after, then Cabela's should give you what you want, but it may not cook the food as evenly beforehand.
Winner: Traeger
Ease of Assembly
Which grill is easier to put together? That's a burning question for many consumers, particularly if this is their first time buying a pellet grill. When it comes down to Cabela's pellet grill vs Traeger, the choice is clear.
Perhaps it's because Traeger is a pioneer in the industry, having manufactured the first pellet grill back in the 1980s. For years, theirs were the only pellet-fueled models on the market. This could be why Traeger units are reportedly easy to assemble, with clear and straightforward instructions.
To be fair, Cabela's Pro Series 24″ isn't particularly hard to put together. However, the control panel is noticeably fragile, which could lead to disaster if it's improperly assembled. While the additional shelving is a welcome touch, it also adds to the overall time required for assembly.
Winner: Traeger
Maintenance
We've already established that the porcelain-enameled cooking grates are simple enough to maintain. As long as you wash them in hot, soapy water after each use and make sure they're thoroughly dry before replacing them, they shouldn't give you any trouble. But what about the rest of the cleanup and maintenance duties?
Cabela's Pro Series 24″ is equipped with a vacuum ash clean-out mechanism, a handy tool for removing debris from the firebox after each use. The grease management system consists of a wide runoff spout and sizable drip bucket, both of which can be cleaned out easily.
Traeger's grease management system uses a similar method. The runoff spout is wide enough to be cleaned with ease, and it's positioned low enough beneath the chimney and the side bar handle to allow for easy access. Like the rest of the components, the drip bucket is high-quality and should last longer than the one offered by Cabela's.
The Pro Series 22 also has a hopper clean-out feature. However, we think Cabela's vacuum ash clean-out system is impressive enough to give their unit the edge here.
Winner: Cabela's
Warranty
This is another category in which Cabela's is sorely lacking in terms of transparency. It's difficult to find any clear information regarding the warranty for their Pro Series 24″ pellet grill. Because most manufacturers offer one year of coverage for their pellet grills following the date of purchase, we'll assume that's also the case here.
Traeger is more generous than some, offering a 3-year warranty for the Pro Series 22 and the majority of its line. As long as it's used properly and maintained regularly, the company will offer free replacements for any defective parts within the first three years of use.
Winner: Traeger
Cabela's Pellet Grill vs Traeger: Standout Features
The features listed above are generic ones, typically shared by any pellet-fueled grill. The only differences lie in the execution.
Now that we've gone over those, let's see if there are any particular standout features that make Cabela's a better buy than Traeger or vice versa.
Cabela's Pro Series 24″
Transparent windows-Both the hopper and the cooking chamber allow you a clear view of what's going on inside
Storage Space-This model is equipped with a lower shelf, a side prep station, and a hopper that's designed to hold more utensils and condiments if needed
Open-Flame Roasting-There's an open flame option that allows you to raise the temperature to 500 degrees, thereby putting a good sear on grilled meats
Extra wheels-Cabela's grill comes outfitted with four wheels, whereas Traeger's has just two
Traeger Pro Series 22
Side Lift Bar-Makes the unit easier to maneuver
Advanced Grilling Logic-Keeps the temperature stable within 15-20 degrees of your chosen temperature
Sawhorse Chassis-Provides added stability on uneven ground
Dual meat probes-While Cabela's offering has just one meat probe, the Traeger model comes with two, allowing you to check both the internal temperature of the grill and the progress of the ingredients themselves
Conclusion
Use Cabela's Pellet Grill if:
You're looking to spend a bit less money on your first pellet grill
You prefer to keep a close eye on your ingredients as they cook
Extra grilling space is a must
Cleanup duties are your least favorite aspect of grilling
You like to finish up grilled meats with a nice flourish
For a grill that's a conversation piece as much as a cooking tool, take a look at Cabela's Pro Series 24″ Pellet Grill.
Use one of Traeger's grills if:
You want a pellet grill that will last for many seasons of frequent use
You don't need a great deal of cooking space
You plan to keep the grill in one spot most of the time
It's important for you to keep an eye on the temperature of the meat as it cooks
You're looking for a unit that carries a generous warranty
Does this fit the bill? If so, check out the Traeger Pro Series 22 today.