A well-constructed kamado grill can be a great investment, especially if you're serious about grilling on a regular basis. With their eye-catching dome-shaped design and excellent heat retention, kamados are some of the most versatile grills on the market.
Although this type of grill has only recently caught on in the US, kamado cooking has actually been around for centuries. The word kamado is Japanese for place for the cauldron, or cooking place. The earliest kamado cookers were made of clay, which is why so many modern versions use ceramics in their construction.
Char-Griller is renowned for its distinctive barrel-shaped charcoal grill, but the company hasn't been content to stop there. The Akorn line represents their entry into the kamado grilling race.
How well do these units hold up to the competition? To find out the answer, we've put together this Char-Griller Akorn Kamado review.
Pros:
More affordable than most kamado grills
Superb heat retention
Versatile unit with an impressive range
Quality construction
Cons:
Some secondary parts (such as screws) are not as sturdy as the main components
Customer service can be spotty
Char-Griller Akorn Kamado Review: Features & Benefits
Design
The Akorn has the distinctive egg shape that's shared by every kamado-style grill, with the cookbox resting atop a sturdy tripod. Two of the legs end in large wheels for maneuverability, while the third leg remains stable so the grill won't roll across the patio.
The storage capacity for this unit is quite generous, especially for a kamado grill. A solid shelf can be found beneath the cookbox, large enough to store the bag of charcoal in between uses. The grill is also flanked by two folding side shelves, with each one sporting a fan-shaped design and three hanging tool hooks.
The lid is outfitted with a wide bar-style handle, which remains cool to the touch even when the fire is raging at its hottest (see Air Vents, below). If you're looking for a kamado grill that has a decent amount of cooking space and a modest footprint, the Akorn could be the one for you.
The company also offers a smaller version of this unit, known as the Akorn Jr. The basic shape is the same, but the sides are outfitted with loop handles rather than shelves. The tripod design features straight legs, but no lower shelf or wheels.
There's also a ceramic version available, which we'll talk more about in Construction, below. The design is also quite similar to the original model, with a tripod design and shelving.
The side shelves on the ceramic version are solid and slightly larger, while the lower shelf is dotted with small round vents. The wheels are also smaller than the ones on the steel model, and there's a numbered dial to help control the air vents.
For the traditional Akorn Kamado grill, Char-Griller offers a color choice of red, black, graphite, or sapphire blue. The Jr. model is available in red, black, grey, blue, or orange, while the ceramic model comes in either black or sapphire.
Finally, we should mention that the steel version of the Akorn is also available in a cart-style design. The cart offers additional space in the form of a long table alongside the grill, with a wire rack situated underneath. This is a great option if you like to entertain, as the table is large enough to set up a toppings bar for burgers and dogs.
Construction
Char-Griller offers a heavy-duty triple-walled steel construction for its flagship kamado grill, with a powder-coated finish to boost longevity and eye appeal. The metal shelves aren't as rugged as the rest of the grill, but they're solid enough to handle condiments and utensils.
The grill's interior features a porcelain coating, which helps the unit retain its heat during cooking. The cart is made of tubular steel, and one of the rubber wheels is equipped with a locking caster for extra stability.
As we mentioned above, Char-Griller also offers a ceramic option. While we think ceramic kamado grills have a great deal to offer, the steel version is lightweight and easy to care for. As a bonus, you won't have to worry about potential cracks and breakage when moving the grill from one side of the patio to the other.
Size
This unit offers 447 square inches of cooking space on a surface that measures 20 inches in diameter. This is large enough to accommodate at least 20 hamburger patties, although Char-Griller claims that the number is closer to 27.
Be aware that only 314 inches are available on the main cooking surface, while the additional 133 are located on the warming rack. However, because the kamado grill is capable of reaching inferno-like temperatures, this isn't likely to be a problem.
The ceramic model offers a bit more grilling space, with 324 square inches on the main surface and 141 on the warming rack. The difference is negligible—we wouldn't make a decision based on this detail alone. The Akorn Jr., meanwhile, is much smaller, featuring 153 square inches in all.
As a final note, we should mention that the steel Akorn weighs 100 pounds, while the ceramic version tops out at 200 pounds. If you're planning on moving the grill around at all, the steel version is a better bet. Similarly, if it's a travel-sized unit you're after, consider the Jr. size, which weighs in at just 40 pounds.
Cooking Grates
The cooking grates for the Char-Griller Akorn are constructed of cast iron, which is both good news and bad. The good news is that cast iron grates can last for generations with the proper care. The bad news is that "proper care" means they'll have to be seasoned before the first use and each time thereafter.
Fortunately, the seasoning process isn't difficult, just slightly time-consuming. Once the grates are hot, carefully apply a thin coating of neutral oil to the entire surface, then let them cool. Repeat the process at least twice more before adding any ingredients.
For the ceramic model, Char-Griller has opted to give the cast iron grates a porcelain coating. This makes the grates much easier to clean, but they'll still deliver enticing grill marks to steak, pork chops, and burgers.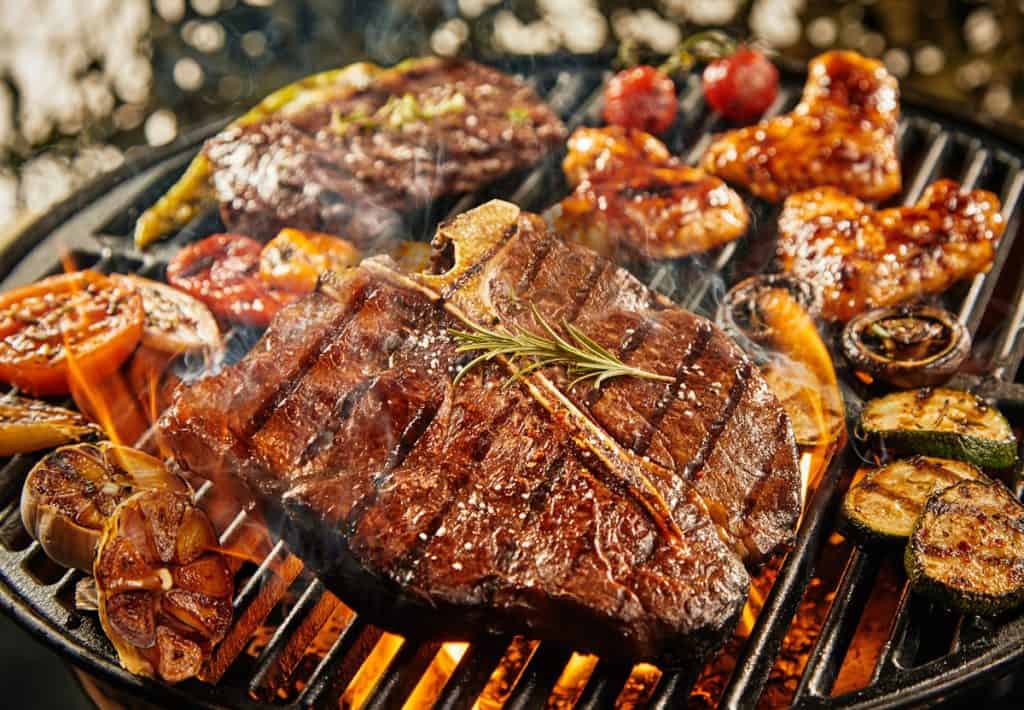 There's also a removable insert in the center of the grilling grate. This feature was implemented so you might add coals to the fire as you cook. While it's a nice idea, it can be awkward to use if there are ingredients on the grill at the time. Fortunately, the grill has good heat retention to begin with, so extra coals aren't usually necessary.
Air Vents
Both the steel and ceramic versions of the Char-Griller Akorn Kamado are equipped with adjustable dampers that allow you to control the grill's internal temperature. There's also a top vent that can be opened or closed as needed to finesse the cooking environment.
On the steel models, the lower dampers are numbered, but you'll have to get in close in order to see them. As we pointed out, the ceramic models come with a numbered dial that makes it easier to find the setting that you want. The built-in temperature gauge lets you know when you're on the right track.
The Akorn Kamado features a temperature range of 200 to 700 degrees Fahrenheit. That means you can use these units for everything from smoked pulled pork to flatbread pizza. At high temperatures, the cast iron cooking grates are ideal for putting a good sear on grilled meats.
Gasket
The hood seal on the Char-Griller Akorn Kamado is made of steel, like the rest of the grill's main components. The part is solidly built and likely to last for as long as you own the grill. However, if it should fail, replacement parts are readily available through Char-Griller's website.
The gasket does its job well, but it's helped along by another key feature: a locking mechanism on the hinged lid. Thanks to these two quality components, the heat and smoke stay right where they're supposed to be, infusing your food with authentic BBQ flavor.
Maintenance
All of the Char-Griller Akorn Kamado grills come with an easy-dump ash pan that's located just beneath the firebox. After you've finished cooking, wait until the grill is cool enough to handle, then simply remove the pan and empty out the ashes.
To clean the cooking grates, scrub them well with a stiff wire brush, then wait until the fire has died down. When the grates have cooled, remove them and give them a good rinse under hot running water. Use a mildly abrasive sponge if necessary to remove any stubborn bits.
Remember that soap isn't recommended for regular cast iron, as it can strip away the seasoning. The porcelain-enameled grates on the ceramic version, however, are another story. You can use soap on these as long as you rinse them well and dry them thoroughly afterward.
Warranty
Char-Griller offers a 5-year warranty if the unit should burn through or rust through at any point during that period. Because many of its competitors offer a 1- to 3-year warranty, this is well above the industry standard.
That said, it can be difficult to get Char-Griller to honor the warranty. The wording of the guarantee allows the customer service representatives to deny responsibility for certain issues, claiming that they must have come about through user error. If you decide to invest in the Akorn Kamado, keep this detail in mind.
Social Proof
We searched the internet to find out what other users might have to say about the Char-Griller Akorn Kamado Grill. Here are a few of the highlights.
The low price was cited as a major factor for most purchasers, as most kamado grills are quite expensive for beginners. Most felt that the grill was worth the investment, and that the steel construction was more durable than they anticipated. Some of the minor components didn't last as long as the rest of the grill, but these were easily replaced.
Possible Alternatives
If you've looked over this Char-Griller Akorn Kamado Review and determined that you'd prefer to keep looking, not to worry. We've compiled a list of similar kamado grills that might be a better fit for your situation.
#1 Kamado Joe Classic II
This ceramic kamado grill ticks off plenty of boxes. Featuring a two-tier "Divide and Conquer" grilling system, its cooking surface can extend to 660 square inches. Note that if you want to take advantage of the extended space, you'll have to invest in a few extra components.
For the design, you can choose a stand-alone model or opt for a cart with side shelving and tool hooks. The thick walls help the cooking chamber maintain temps between 225 and 750 degrees Fahrenheit. Be forewarned, however, that it's much pricier than the Akorn.
How they compare:
Design: Kamado Joe
Construction: Kamado Joe
Size: Char-Griller
Cooking Grates: Kamado Joe
Air Vents: Kamado Joe
Gasket: Kamado Joe
Maintenance: Char-Griller
Warranty: Kamado Joe
While the Classic II is expensive, it comes with a lifetime warranty on all ceramic parts and a 5-year warranty on metal parts. Do you want a kamado grill that's built to last for years to come? If so, the Classic II could be just what the grillmaster ordered.
#2 Vision Grills Ceramic Kamado
This unit is still set at a higher price than the Akorn, but it's more affordable than the Kamado Joe model. The Vision comes with one highly appealing feature: a set of easy-to-read dials allows you to select the perfect temperatures for smoking or grilling, even if you've never used a kamado grill before.
How they compare:
Design: Char-Griller
Construction: Vision
Size: Vision
Cooking Grates: Char-Griller
Air Vents: Vision
Gasket: Char-Griller
Maintenance: Char-Griller
Warranty: Vision
Check out the Vision if you'd prefer a ceramic unit that's exceptionally user-friendly.
#3 Chefood 16″ Ceramic Kamado Style Pumpkin Grill
This is another affordable kamado grill, and one that offers a ceramic construction to boot. With just 138 square inches of cooking space, it has more in common with the Akorn Jr. than the larger models, but it heats evenly and effectively. The pumpkin-style design is a clever touch and a real conversation starter.
How they compare:
Design: Chefood
Construction: Char-Griller
Size: Char-Griller
Cooking Grates: Char-Griller
Air Vents: Char-Griller
Gasket: Char-Griller
Maintenance: Chefood
Warranty: Char-Griller
If you want an eye-catching kamado grill with a small footprint take a closer look at the Chefood Pumpkin Grill today.
Frequently Asked Questions
Why is the Char-Griller Akorn so much less expensive than other brands like the Big Green Egg?
When you're shopping for a kamado grill, you'll notice that the prices are typically higher than what Char-Griller is asking for the Akorn. The difference is mainly due to the steel construction.
Ceramic kamado grills cost more to manufacture, which is why the ceramic version of the Akorn is also set at a higher price than the original steel model. Fortunately, the steel Akorn is both durable and reliable, so you aren't missing out on anything by spending less money.
Is it hard to maintain the temperature on a kamado grill?
While the process does require some skill, it's no more difficult than maintaining a steady temperature on a regular charcoal grill. In fact, thanks to the Akorn's quality construction, it holds its heat better than typical kettle-style grills.
If you're a first-time buyer who's concerned about getting the temperature right, the Akorn is a good choice. You'll have to practice a bit in order to achieve the results you want, but the numbers on the bottom air vent will serve as a useful guide.
Does the lid have to be closed when cooking on a kamado grill?
No, but you'll get better results when the lid is closed. Here's why.
When food is cooked on a kamado grill, it's surrounded by heat on all sides. In addition to cooking the food evenly, this phenomenon helps the food to develop a crust around the surface, thereby locking in all the delicious juices.
Grilled meats and vegetables will be particularly delicious when they're cooked this way, which is why it's better to leave the lid on. If you'd prefer to leave the lid off, it's better to use a regular charcoal grill instead.
The Bottom Line
If you're looking for an affordable model that performs reliably in all kinds of weather, we would highly recommend the Char-Griller Akorn Kamado Grill.
Some buyers might balk at the steel construction, and we understand. After all, steel is prone to rust, which is something that you don't have to worry about with a ceramic grill. However, as long as you protect the Akorn from the elements and clean the components regularly, it should turn out impressive results for years to come.
Click here to get a better look at the Char-Griller Akorn Kamado Grill.
Hi there! I'm Darren Wayland, your BBQHost. My love of great barbecue inspired me to curate this site as a resource for all my like-minded fellow pitmasters out there. When I'm not researching and learning all I can about the latest tips and techniques, you can find me at the grill—that is, if you can spot me at all through the clouds of sweet-smelling smoke. And since you asked, yes, that probably is barbecue sauce on my face. Welcome to the party!