When I first decided to purchase a pellet grill, I was initially discouraged when I saw some of the prices.
Fortunately, there are plenty of affordable options out there as well—you just have to make sure you're investing in a quality product.
Here's the rundown on several of the best budget pellet grills on the current market.
In a rush? Here is the winner:
In this article, we're going to review the following pellet grills:
Shopping on a Budget: Everything You Need To Know About Cheap Pellet Grills
It's possible to get a decent pellet grill at a bargain price, but it helps if you know what you're looking for in advance. By the time you've finished reading this section, you should be armed with the information that you need.
Why Should You Choose a Pellet Grill in the First Place?
For starters, these units can be ready to cook within minutes. That means you can decide on the spot whether or not you'd like to fire up the grill. This feature comes in especially handy when the weather is erratic.
Second, pellet grills imbue the food with a delectable smoky taste. Since pellets are made of real wood, they offer an excellent variety in the flavor department. That's something that you'll never get with a gas-powered unit.
You'll also have more control over the temperature when you cook with a pellet grill. Most models are equipped with digital control panels that allow you to pre-select the temperature and simply walk away. Grilling enthusiasts refer to this perk as "set it and forget it," and it comes in particularly handy when you're entertaining guests. Some modern pellet grills are even equipped with WiFi capability, so you can control the temperature using an app that's downloaded to your smartphone.
Finally, pellet-burning units offer more versatility than gas or charcoal grills. Since the temperature can be controlled manually, you can use the grill for multiple cooking techniques, from braising to searing.
Choosing the Best Pellet Grills for the Money
Most shoppers appreciate a bargain. However, when it comes to a major appliance like a pellet grill, you'll want to pay close attention to the overall construction and durability of the unit.
The body of the grill should be composed of heavy-gauge steel, often with a powder finish. Sometimes, the manufacturer will advertise the materials used for the hopper component as well. Try to invest in a company that's upfront about the construction of their product.
Check to see if the grilling grates are made of steel or cast iron. If it's the former, look for 304-grade stainless steel. This is a restaurant-quality grade that resists corrosion, so the cooking grates should last for a long time with proper care.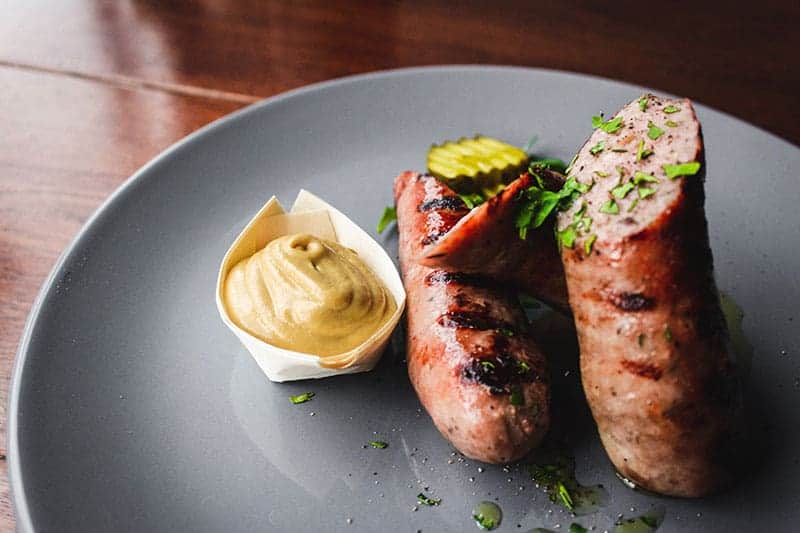 If the grates are made of cast iron, they'll probably feature a porcelain coating. While this makes cleanup easier, the porcelain is prone to chipping and flaking. This damage will adversely affect the grates' ability to conduct heat. It's also difficult to get good sear marks on a porcelain-enameled surface.

In addition to value and construction, what are the qualities you should look for in a pellet grill? Here's a short list of the most important ones.
Cooking Surface
A grill with 400 to 600 square inches of cooking space should be sufficient for a family of four to six people. Since you'll typically pay more for a large unit, cheap pellet grills tend to be on the smaller side. You might consider this a perk, especially if you're planning on taking the grill along on camping trips or afternoon picnics.
Hopper Capacity
Unless it's a travel-sized unit with fewer than 400 square inches of grilling space, the hopper should have a capacity of at least 15 pounds. This will cut down on the amount of time you need to spend refilling the hopper during the cooking process.
Temperature Range
Look for a unit with a range of at least 180 to 500 degrees Fahrenheit. A broader range will give the unit greater versatility.
Warranty
Try to find a manufacturer that offers a warranty on parts for at least three years after the date of purchase. This indicates that the company has faith in their product and ensures that you'll be able to get a replacement if something goes wrong.
The Best Way To Use a Pellet Grill
A properly functioning pellet grill opens up a whole new world of cooking opportunities. If the temperature can dip below 160 degrees, you can use the unit to make beef jerky or other dehydrated meats. Experiment with different fruit woods for smoked pulled pork. Give grilled steaks a flavor boost with hickory or mesquite. If the grill is large enough, you can even use it to smoke an entire turkey.
Safety Precautions
Remember that pellet grills have motors that run off electricity. This means that you'll need to inspect the cord frequently for signs of damage. Also, make sure the cord is safely out of the way during use, so that it doesn't pose a tripping hazard. Lastly, don't use your pellet grill if it's raining or snowing outside. This will greatly increase your risk of electrical shock.
Best Budget Pellet Grills: Product Review Guide
While the following list includes mainly budget-friendly options, it represents some of the best pellet grills for the money that you're likely to find anywhere.
The Traeger Tailgater 20 is a basic straight-legged pellet grill that's small enough to be taken on the road. The body is constructed of powder-coated steel, and the hopper can hold up to 8 pounds of pellets. When the hopper is empty, this unit weighs just 62 pounds. Porcelain-coated steel grilling grates help keep cleanup chores to a minimum, and two sturdy wheels make the unit more transportable once it's been set up. The cooking surface measures 300 square inches, which is adequate for a travel grill. Still, it requires some finesse if you're cooking for a number of people.
This model features "E-Z Fold" legs, so it can fit easily into the truck bed or the trunk of your car. We think it's a little bit cumbersome for one person to carry, but two people can handle it easily. Also, note that the cord is fairly short, so you should plan ahead if you're setting it up in an unfamiliar area. Finally, note that Traeger offers a three-year warranty for defective parts.
Pros:
Very easy to use
Portable grill
Folding legs
Shut down setting allows it to cool slowly
Cons:
Electrical cord is a little bit too short
Hook for drip bucket could be larger
Temperature control can be erratic
One of Traeger's most versatile units, the Lil Tex Elite is durable enough to be used as a home grill, but packs up easily for tailgating as well. With 418 square inches of grilling space, it's ideal for couples or small families. Traeger claims that the surface can accommodate up to 16 hamburger patties or four chickens, but we've found that this estimate is slightly generous. It's best to plan on about a dozen patties or three chickens to be on the safe side. The hopper can hold up to 18 pounds of pellets, which is large for a tailgating grill but perfect for home use.
This model features Traeger's Digital Elite Control system, which is supposed to keep temperatures accurate to within 20 degrees Fahrenheit in either direction. Unfortunately, it doesn't always deliver on this promise. Expect to spend some time fiddling with the controller during the cooking process.
The Lil Tex Elite 22 is outfitted with the company's signature powder-coated steel construction, with porcelain-enameled steel grilling grates. Like the Tailgater, it features straight legs with two wheels for maneuverability. It's also more expensive, with a price that puts it in line with some of the larger units on our list. However, quality construction and longevity are included in the cost. Traeger's three-year warranty is in place for the Lil Tex Elite 22 in case you have any issues with defective parts.
Pros:
Can be used as a travel grill
Quality construction
Works well in cold weather
Cons:
Finicky control panel
Chimney allows moisture to seep in
Doesn't impart much smoke flavor
Read our full Traeger pellet grills review here.
Camp Chef's offering provides grillers with 429 square inches of space in the main cooking area, with an additional 144 square inches available on the optional warming rack. This unit features a high-quality stainless steel construction inside and out, with a sturdy lid and handle. Its hopper capacity is 18 pounds, and the system is especially efficient when it comes to pellet consumption. The temperature can be set from 160 to 500 degrees, making it suitable for use as a dehydrator for jerky. An included temperature probe allows you to keep an eye on your progress while the food is cooking. We think this unit provides the best smoke flavor of any pellet grill on this list.
Two of the straight legs on the Camp Chef DLX are outfitted with large wheels, making this grill easy to move around the patio. A side shelf offers additional space for storage or prep. There's an ash can included to help with cleanup, and the hopper features a removal function that allows you to change the pellets during cooking. Camp Chef offers a three-year warranty with every purchase.
Pros:
Great hardwood flavor
Makes deep smoke rings on brisket and pulled pork
Generous surface area
Easy to assemble
Cons:
Warming rack is awkwardly positioned when it's in place
Difficult to remove pellets for storage
Burns through pellets quickly
Read our review of the best Camp Chef pellet grills.
This unit offers 450 square inches of grilling space, a 15-pound capacity hopper, and a sawhorse chassis design. The cooking grates are composed of porcelain-coated cast iron, while the main body boasts a stainless steel construction.
Two of the legs on this model are equipped with all-terrain wheels with locking casters. The facing legs have nifty "feet" affixed to the ends, which gives the grill extra stability. A foldable shelf offers extra storage space, but it's too small to hold anything larger than a pair of tongs. The shelf also sits too close to the chimney to be used for prep space.
The ZPG-450A has a temperature range of 180 to 450 degrees Fahrenheit. That's sufficient for grilling and roasting, but it won't allow you to get a good sear on grilled meats. The digital control panel boasts an LED temperature readout, which is easy to read in the dark. There's a grease collector situated below the cooking surface, but we don't think this component is particularly effective. If you're looking for a model that's easy to clean, the Traeger units earn higher marks. Finally, note that a three-year warranty is included when you purchase this grill.
Pros:
Very affordable
Stable design
Grill grates are easy to clean
Maintains accurate temperatures
Cons:
Poor grease management system
Ignition system can get finicky after a few months of use
Unreliable customer service department
Shelf is small and set too close to the chimney component
Like the ZPG-450A, this grill is constructed of stainless steel with porcelain-enameled cast iron cooking grates. The cart-style model features a unique interlocking ring design with a lower storage shelf. It's also slightly larger than its Z Grills counterpart, with 550 square inches of grilling space. The 20-pound hopper capacity is generous for a grill of this size.
This model offers a digital control panel and a range of 180 to 450 degrees. It's usually accurate within 10 degrees of the preselected temperature, and convection heat distribution allows your ingredients to cook evenly. The main quibble we have is with the auger component. It tends to pull the pellets from the center of the hopper, which can lead to jam-ups if you aren't paying attention. Also, the grease management system is just like the one on the ZPG-450A, meaning that it's similarly inefficient when it comes to cleanup.
Pros:
Convenient design
Sturdy packaging
Easy to put together
Excellent smoke flavor
Can be used to bake pizza or flatbread
Cons:
Insufficient grease management system
Poor customer service
Pellet feed system requires supervision
Rec Tec's offering is set at a higher price point than most of the models listed here, but it has enough good points to justify the cost. The RT-340 features a stainless steel cooking chamber, a cart-style design with two rollerblade-style wheels and lower storage shelf, and a 20-pound capacity hopper. The grilling grates are constructed of 304-grade stainless steel, as are the curved horn-style handles.
This is a portable unit, boasting 340 square inches of grilling space and built-in meat temperature probes. It's even WiFi enabled, so you can control the temperature via your tablet or smartphone. Regarding the temperature: Rec Tec advertises a basic range of 200 to 500 degrees Fahrenheit, which isn't particularly generous. However, the RT-340 also offers a "LO" setting for maximum smoke flavor and a "FULL" setting that allows you to achieve a proper sear. A two-year warranty is included with the purchase of this model.
Pros:
Hopper can be used as a shelf
Impressive temperature range
Reliable customer support department
Maintains an accurate temperature throughout all cooking applications
Cons:
Relatively pricey for a budget grill
Lower shelf has vented holes that smaller items can escape through
Balance is a bit tricky
With 700 square inches of cooking space, this is one of the larger models on our list. It features a cart-style design with a lower shelf, porcelain-coated cast iron cooking grids, and a temperature range of 180 to 500 degrees. The cooking chamber is constructed of heavy-gauge steel, and the overall structure is bulky and solid. The only drawback? There are vented holes in the lower shelf that are large enough for small items to slip through. This might not be an issue if you're using the shelf mainly for pellet storage, but it's worthy of mention.
The oversized grilling surface makes the Pit Boss 700FB a good choice if you entertain often, or if you just enjoy grilling large quantities of food at once. There's even a built-in flame broiler to give steaks that all-important char at the end of the cooking process.
Be aware that this model doesn't perform as well when you use generic pellets, or any brand other than Pit Boss. Fortunately, their pellets are high-quality and provide a great smoke flavor. Pit Boss offers consumers a generous five-year warranty with the purchase of the 700FB.
Pros:
Smoke adjustment feature
Versatile unit
Large cooking surface
Cons:
No side shelf
Flimsy lower shelf
Requires Pit Boss pellets in order to function properly
Pit Boss related articles:
The Davy Crockett grill from Green Mountain is portable, versatile, and high-tech. With a cooking surface that spans 219 square inches and a 9-pound capacity hopper, it's small enough to fit easily into the trunk or backseat of your car. It weighs in at just 57 pounds, and the foldable legs can be used as handles. That makes the Davy Crockett the ideal choice for tailgating or picnics on the beach. The main body and cooking grids are all composed of 13-gauge steel.
This unit is WiFi enabled, which allows you to control the temperature even from a distance. The "Sense-Mate" thermal sensor provides you with accurate readouts throughout the grilling process. It boasts an impressive temperature range of 150 to 550 degrees, making it suitable for a number of cooking techniques. An all-weather cover is included in the purchase price, along with a two-year limited warranty.
Pros:
Portable unit
Very affordable
All-weather cover included with purchase
WiFi capability
Cons:
Construction is a bit on the flimsy side
Some shipping issues reported
Erratic temperature control
The LG700 is equipped with 707 square inches of cooking space in total, including a porcelain-coated steel upper cooking grid. The main cooking surface is made of porcelain-enameled cast iron, while the main body features a heavy-duty steel construction. The cart-style design features four wheels for maneuverability and a lower shelf for storage.
With a temperature range of 170 to 600 degrees, this grill can be used for just about anything. There's even a built-in flame broiler for searing. The digital control panel comes outfitted with a programmable meat probe interface. While the company advertises precise temperature control, we've found that the control panel can be somewhat erratic. Also, the 14-pound capacity hopper is too small for a grill with this much cooking space.
Louisiana Grills offers consumers a five-year warranty with this product.
Pros:
Generously sized
Excellent temperature range
Built-in flame broiler
Exceptional versatility
Cons:
Relatively expensive for a budget option
Small drip bucket
Some minor components can be damaged in transit
Small hopper
Best Budget Pellet Grills: The Verdict
Do any of these cheap pellet grills stand out above the rest? While it's a close call, we would award the prize to the Camp Chef SmokePro DLX, especially if you enjoy intense smoke flavor. Assembly is simple, the digital control panel is user-friendly, and the temperature remains accurate throughout the smoking process. If you want to heat the grill to higher temps, a sear box option is available for an additional price.
You don't have to drain your bank account to invest in a high-quality pellet grill. If you follow our advice and choose the grill that best suits your needs, your new appliance should serve you well for years to come.

Hi there! I'm Darren Wayland, your BBQHost. My love of great barbecue inspired me to curate this site as a resource for all my like-minded fellow pitmasters out there. When I'm not researching and learning all I can about the latest tips and techniques, you can find me at the grill—that is, if you can spot me at all through the clouds of sweet-smelling smoke. And since you asked, yes, that probably is barbecue sauce on my face. Welcome to the party!